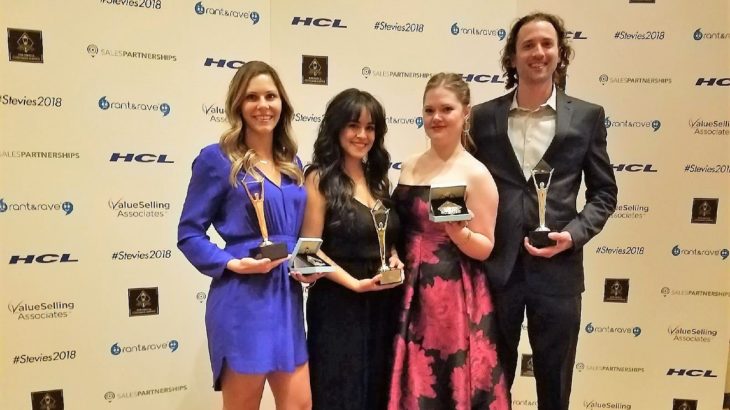 This is the fourth straight year eMoney has been recognized by the Stevie Awards, the world's top honors for customer service and sales professionals
In addition to team awards, three eMoney employees received individual honors for customer service
eMoney Advisor (eMoney) won six awards during the 12th annual Stevie Awards for Sales and Customer Service banquet on Feb. 23 at Caesars Palace in Las Vegas.
The client services team won in the following categories: 
Back-office Customer Service Professional of the Year
Melissa Houlemarde – Gold
Front-line Customer Service Professional of the Year
Teal McIntosh – Silver
Young Customer Service Professional of the Year
Danielle White – Silver
Front-line Customer Service Team of the Year
Bronze
Contact Center of the Year (Technology)
Bronze
Customer Service Department of the Year (Technology)
Bronze
"eMoney provides an innovative wealth planning platform that continues to evolve as our clients' needs change, and it's equally important for the eMoney team to provide excellent service and support to help meet those needs," said Frank Tropiano, head of client services at eMoney Advisor. "We're proud to have our client services team recognized again for their passion and dedication to our 50,000 users, enabling them to get the most out of the eMoney platform to grow their businesses."
The client services team, comprised of more than 115 employees located in eMoney's Radnor, Pa., and San Diego, Calif., offices, upholds eMoney's commitment to providing superior quality service to clients. They manage critical functions such as operating eMoney's call center, providing ongoing training sessions and leading in-depth coaching, ultimately serving as true partners to eMoney's diverse client base.
The client services team's notable achievements in 2017 include: 
Onboarding more than 7,200 new users to the eMoney platform
Creating 175 in-app tutorials
Reaching nearly 21,000 users through online and live training sessions
More than 2,500 Stevie Award nominations from organizations of all sizes and in virtually every industry were evaluated in this year's competition. Winners were determined by the average scores of more than 150 global professionals in seven specialized judging committees.
"Our client services team form strong bonds with our clients because we understand their needs and are advocates for them," said Cynthia Carle, a supervisor on eMoney's client services team. "Each year, I have an increased appreciation for my peers and the passion they bring to work every day."