Integrations are designed to allow you to streamline your workflow, by syncing data across multiple applications and allowing access to features, reports, and client information all from within your eMoney application. Our latest integration partner, Wealthbox CRM, is the perfect tool for the modern financial advisor.
---
What is Wealthbox CRM?
Wealthbox CRM offers a platform that is designed to enable modern client management and coworker collaboration. The elegantly simple layout allows you to see your client's full picture in one place. While social feeds keep you aware of what's on your clients' minds and ready to reach out when they need you most.
Tasks, streams and workflows are designed to keep your team coordinated in real-time and targeted in their communication, which allows you to get more done in less time.
And with a fully capable mobile app, you can search for contacts, update your notes, and schedule meetings on-the-go. Learn more about Wealthbox here.
---
How does eMoney integrate with Wealthbox?
The Wealthbox integration features single sign-on capabilities allowing advisors to quickly transition between their eMoney application and Wealthbox CRM. By signing into Wealthbox directly from your eMoney platform, you remove some of the common obstacles in transitioning between applications, so you can quickly move from client communication to financial planning.
You can also sync contacts two-ways between applications, ensuring the consistency and accuracy of your clients' information. That means you can import a new client to eMoney to avoid doubling your data entry efforts, or sync an existing client with their Wealthbox profile to ensure the accuracy of their information.
See below for a brief demonstration of the basic features of the Wealthbox integration:

---
How do I enable the integration?
Current Wealthbox users can select View All Applications under Applications on your advisor navigation bar and click in to Wealthbox. From here click the green Turn On button then enter your User ID and Password and click Send to enable the integration.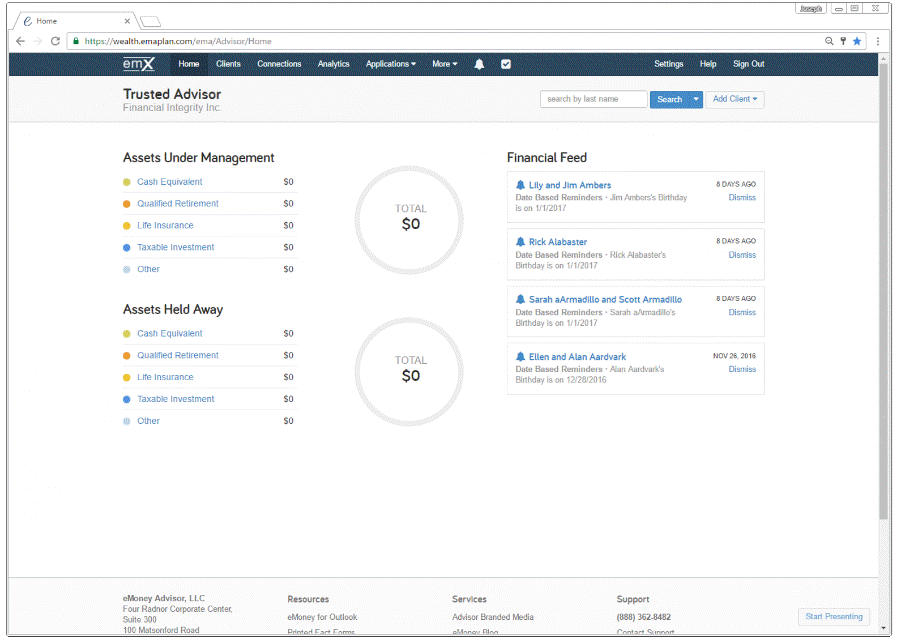 ---
Not a Wealthbox CRM user but want to give it a try?
You can access a free trial of Wealthbox directly from eMoney. Simply select View All Applications under Applications on your advisor navigation bar and click in to Wealthbox to learn more about the latest integration and sign up for a free trial. Or click here to schedule a Wealthbox demo.