Unique Solutions for Your Specific Needs
Your organization is unique and deserves unique technology. That takes more than a tech provider – it takes a tech partnership. We'll support your full scope of needs today, and into the future, at a price that enables your ability to scale.
Scalable Planning Solutions
Help your advisors address their clients' changing financial priorities through each stage of life.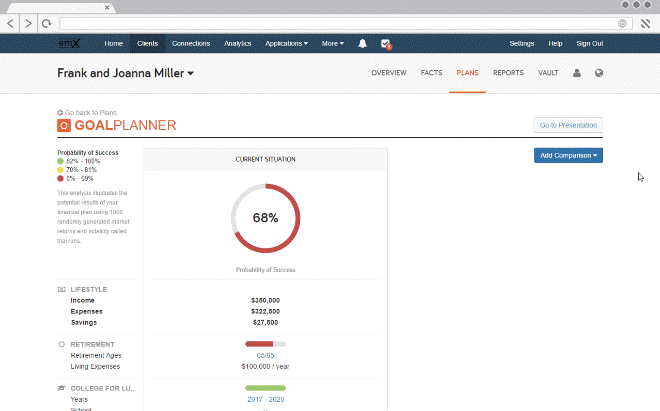 Meet Evolving Needs
Offer your advisors both the simple and sophisticated planning solutions to support the evolving planning needs of their clients.
LEARN MORE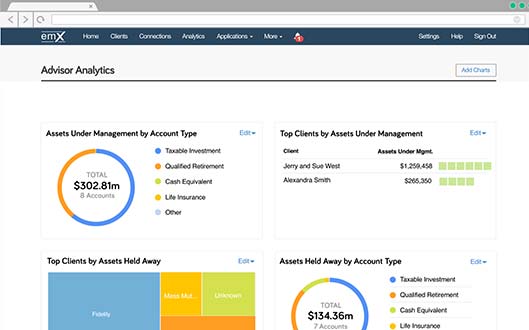 Monitor and Manage
Advisors can efficiently track client behavior to provide excellent planning services, while firm-level analytics help you benchmark performance and pinpoint opportunities for growth.
LEARN MORE
Need more?
Our eMoney for Enterprise team will work with you to develop a comprehensive solution that suits your organization best through a wide a range of customization and configuration options, including:
FOR CONSULTATION AND PRICING CALL
888-362-4612
Feature selection and release management
User setup and access controls
Custom investment settings
Flexible and open API strategy
Branded platform and presentation deliverables
A dedicated relationship manager
FOR CONSULTATION AND PRICING CALL
888-362-4612
A Buyer's Journey
Follow one advisor's search for the best wealth management platform and why he chose eMoney over other popular FinTech solutions.
Data Entry Services
Enlist our team to help manage client data entry and maintenance in eMoney.