eMoney's Suite of Wealth Management Solutions
A range of unmatched services and solutions to stay ahead of industry trends, meet clients' evolving needs, and grow your bottom line.
<
Which Meets Your Needs?
An all-in-one comprehensive wealth planning solution to support every stage of life.
Interactive planning and business oversights, simplified.
A scalable wealth management platform for evolving needs.
X
Client Portal
An engaging, digital experience makes the difference in your client relationships. eMoney's industry-leading Client Portal gives your clients on-demand access to their financial picture in one place to monitor account activity, track progress toward goals, evaluate spending, and much more – placing you at the center of their financial world.
X
Account Aggregation
eMoney comes equipped with a built-in aggregation engine that automatically pulls financial account information, such as account balances and holdings, into our platform. Using aggregation, you can see assets under management and assets held away for each and every client, providing you with the best information available to deliver excellent service.
X
Integrations
eMoney has partnered with leading FinTech providers who share our belief in providing you with a first-class technology experience. By evaluating each partner on their technology offering, functionality, and security policies, we make sure each integration we develop provides value to your business with features you'll actually benefit from.
X
Analytics
eMoney's Analytics solutions help advisors, support staff, and office managers see the trends in their business to power decision-making and drive results. Clear analysis of all the data you capture within eMoney allows you to create actionable strategies to capitalize on more opportunities, become more efficient, and ultimately grow your success.
X
Digital Advice Platform
Meeting the shifting planning needs of modern, self-directed investors and traditionally-advised clients within one platform is no longer a pipedream. With Digital Advice, you can best support the planning needs of both within a single and fully-integrated solution that enables you to easily evolve investors from automated to collaborative service as their need for advice grows.
X
Unlimited Digital Document Storage
Help your clients organize their financial lives while streamlining your data gathering process, by storing copies of your clients' important statements and documents digitally. In eMoney's online Vault, it's easy to securely share and access files whenever and wherever you or your clients need them, from one location.
X
Digital Lead Capture
Spend your time perfecting your clients' financial plans and providing great service – not prospecting for new business. With Lead Capture, you have a simple and automated way to reach and qualify leads from within the eMoney platform.
X
Mobile Web App
Smartphone and tablet use is now an essential part of everyday life. So eMoney made sure clients can access their Client Portal through any connected device, on-demand and 24/7. That way, clients can stay connected to their financial pictures and within reach of your service.
X
Screen Sharing
Can't meet with your clients face-to-face? No problem! eMoney comes standard with virtual conference and Screen Sharing technology, allowing you to hold a meeting with your clients directly within our platform.
X
Alerts and Alarms
Know what's affecting your business with Alerts and Alarms. Now, you can gain insight on what's most important to your business with instant notifications. Dozens of pre-built and custom alerts keep you up-to-date and ready to take action.
X
Reports
A variety of professional and compelling reports help support your recommendations and show clients they have options to reach their financial goals. With our Reports, build comprehensive presentations or simply keep clients up-to-date on their financial pictures.
X
Advisor Dashboard
Stay on top of client activities with a snapshot of your entire business. The Advisor Dashboard allows you to customize your view so you can easily see the insight you need to plan your day and run your business.
X
Award Winning Customer Support
We provide you with the support you need to take your success further than imagined. Members of our award-winning Client Engagement team, knowledgeable trainers, certified planners, success coaches, implementation specialists and relationships managers dedicate themselves to supporting your eMoney journey every step of the way.
X
Data Security
At eMoney, we care as much as you do about data security, if not more. Our commitment to safeguarding your information surpasses the responsibility of one team or department – it's an ongoing, company-wide effort and part of our culture.
X
Modular Needs Analysis
Our cash-flow-based Needs Analysis tool lets you run through common financial scenarios without building a full and comprehensive plan. Now, you can quickly and efficiently pull together planning insight for specific financial needs, such as retirement, insurance, college planning, income protection and more.
X
Goal Planner
Using the Goal Planner, you give clients a clear picture of how well they're positioned to reach their goals. Real-time, percent-funded analysis allows you to predict the probability of achieving a goal, while up to three side-by-side comparisons help you and your clients work together to prioritize what is most important.
X
Advanced Planning
Put your expertise on full display. Build custom financial blueprints using dozens of advanced planning techniques and what-if scenarios to provide clients with an in-depth and personalized look at their financial pictures.
X
Interactive Cash-Flow Planning
Planning is more engaging when it's collaborative. In the Decision Center, work side-by-side with your clients to understand the financial impact their decisions have on their plans. Adjust advanced planning scenarios and techniques in real time for immediate client reactions and feedback.
X
Collaborative Estate Planning
The Distribution Center eases clients into conversations about their estate. This collaborative planner allows you to show the effects of multiple estate planning techniques, such as distributions and survivor income, in a way that your clients will understand so that you can work together on the best options for success.
FOR INDEPENDENT PRACTITIONERS
An agile wealth-planning platform that grows with your practice or team.
$162 – 324
per advisor/per month
FOR FIRMS
A flexible and configurable firm-level experience for multiple users in various roles.

Need more? Experience the power of technology partnership with a custom solution developed specifically for Enterprises.
Build On What You Have
Unlock the power of premium services that add value to your eMoney platform.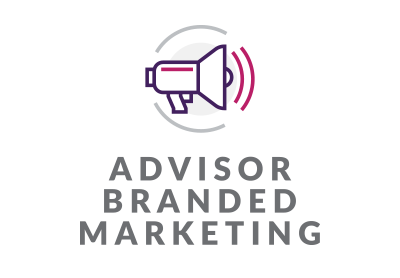 Exceptional digital marketing content to reach new audiences, support your expertise, and explain the value of technology to clients.

Need More?
Experience the power of technology partnership with a custom solution developed specifically for Enterprises.