Pro
Solve clients' more complex planning needs with the most comprehensive cash-flow planning solution.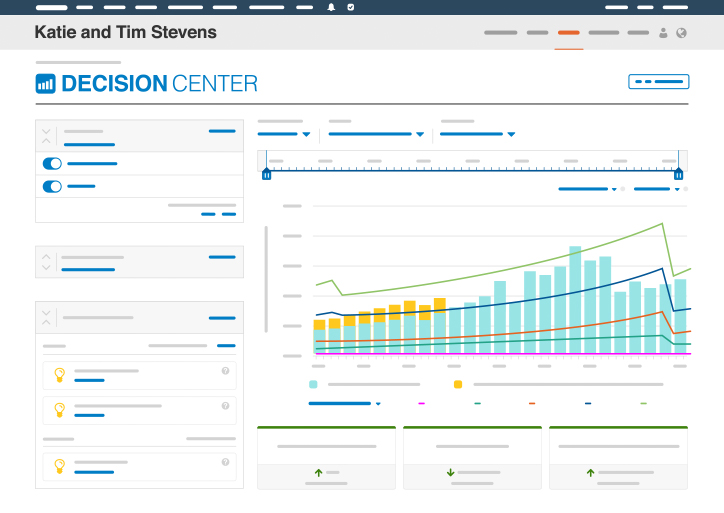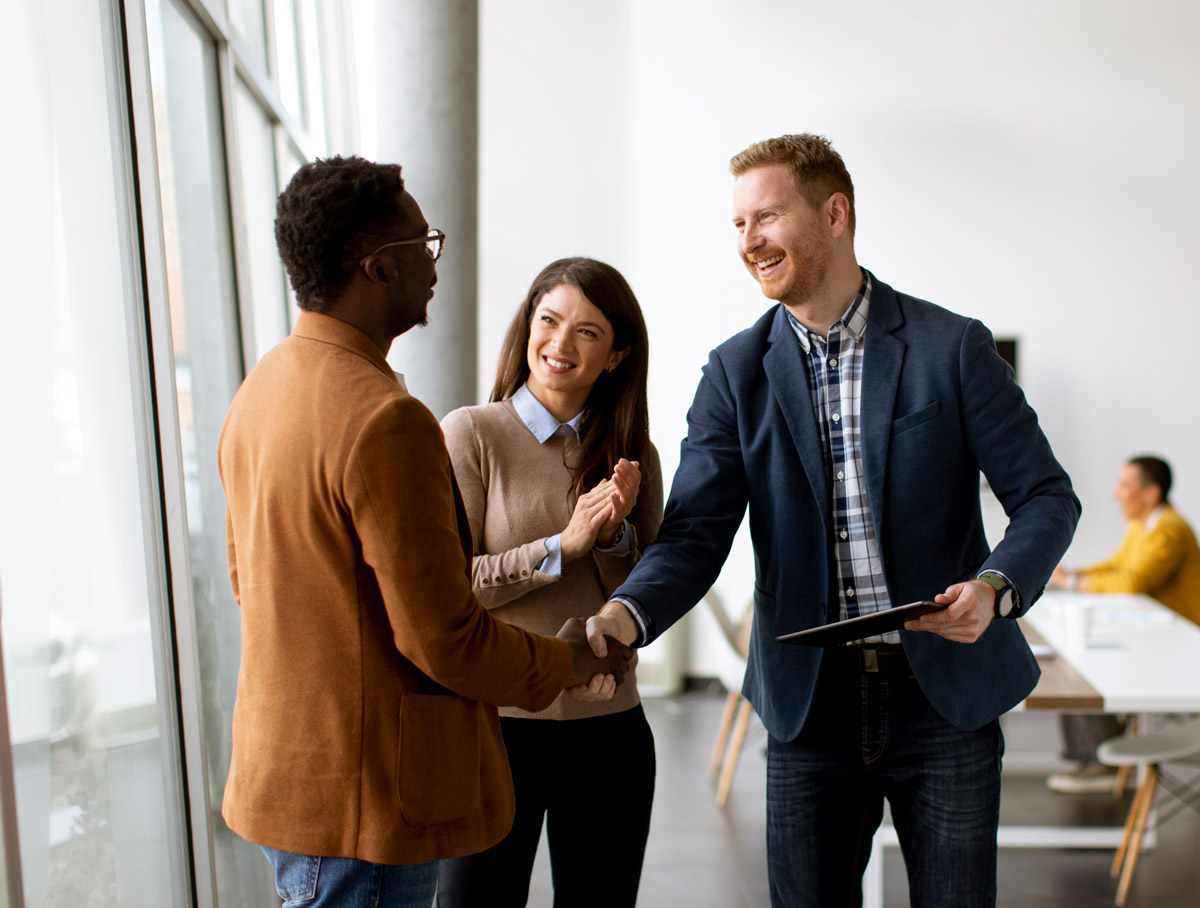 Simplify the complex
Help clients with complex planning situations to easily understand their financial future and the impact of their financial decisions.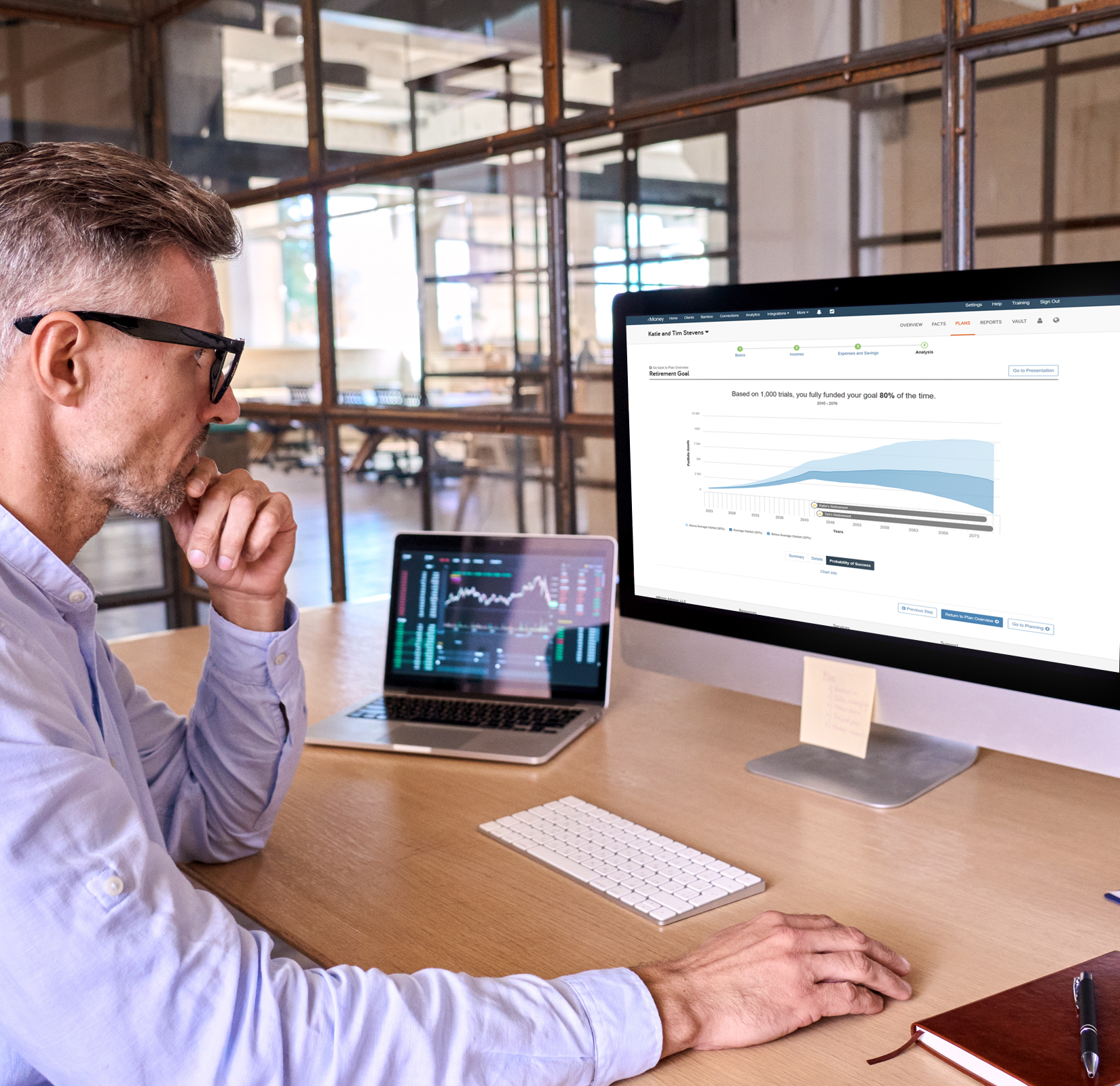 Elevate your tech
Leverage the sophisticated and powerful financial planning solutions you need to complete everything from cash flow planning, retirement income planning, robust what-if scenarios and solvers, estate planning, and comprehensive tax calculations.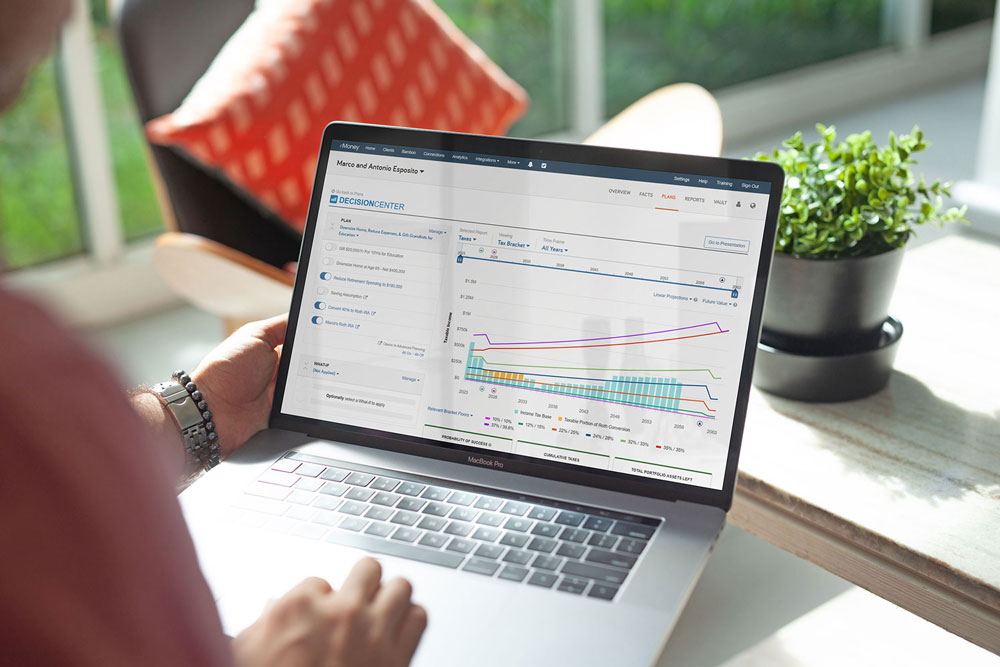 Model the future
Engage clients and show the value of your expertise with illustrative and interactive planning tech that allows clients to visualize their complete financial journey.
eMoney Pro supports complex planning
Provide the most comprehensive cash-flow based capabilities to accommodate clients' most complex planning needs.
Sign-up to watch our demo to see how it works.
VIEW DEMO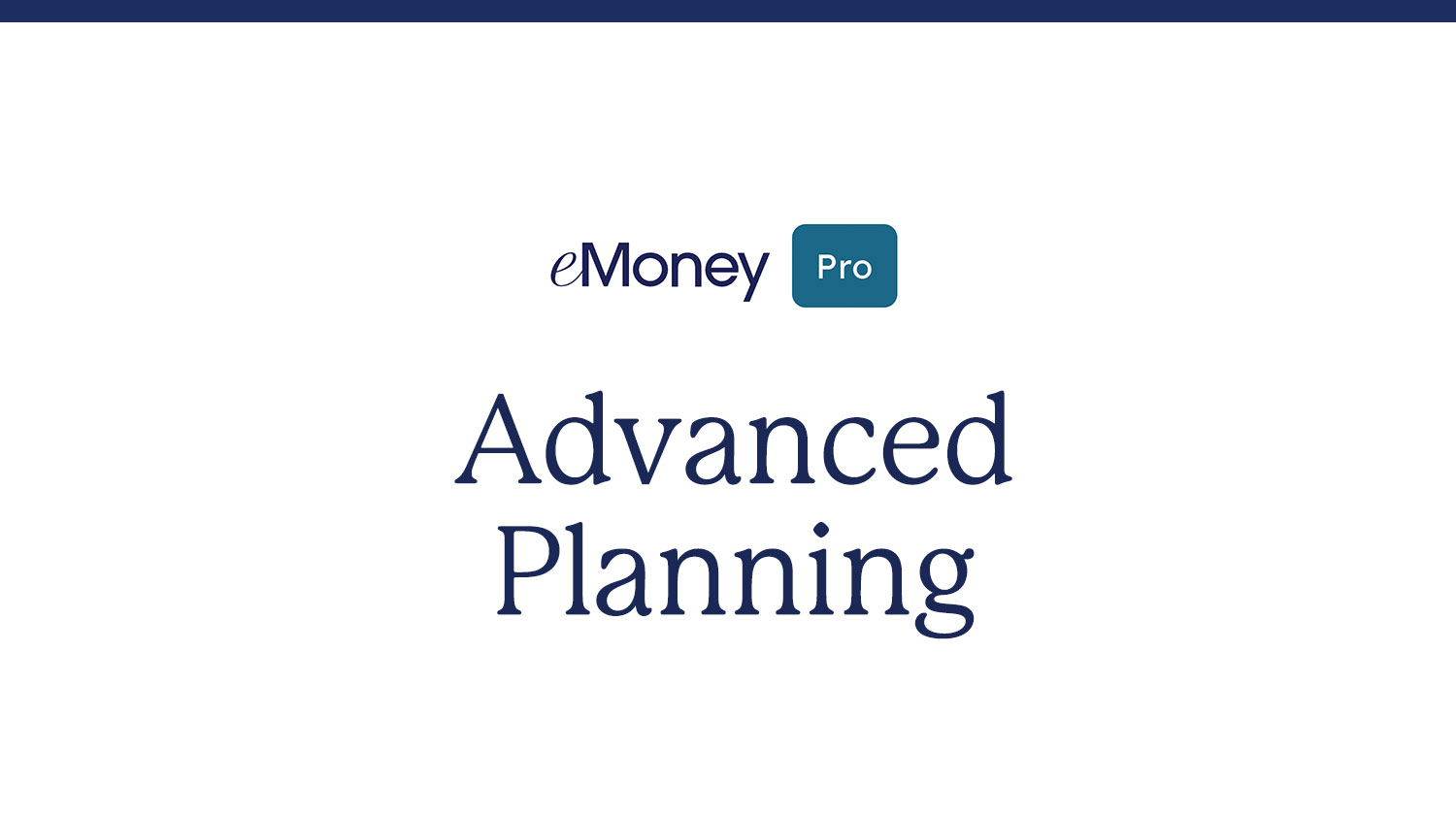 Enterprise
Lean on our 20+ years of experience delivering planning-led solutions to financial institutions of all sizes and take your planning business to the next level.
Learn more
All products include
Learn more
Client Portal
Secure file sharing and storage
Spending and budgeting tools
Business analytics
Insights and data
Industry-leading account aggregation
Powerful integrations
Other Benefits
Personalization
Aggregation
Data Security
The foundation of financial planning is building relationships. With eMoney you can have more personalized conversations that increase trust and drives business growth

Provide clients with their own client portal that displays their unique plans and goals
Deliver custom reports the drive individualized conversations to the client needs
The majority of eMoney clients report having more valuable personalized conversations since using eMoney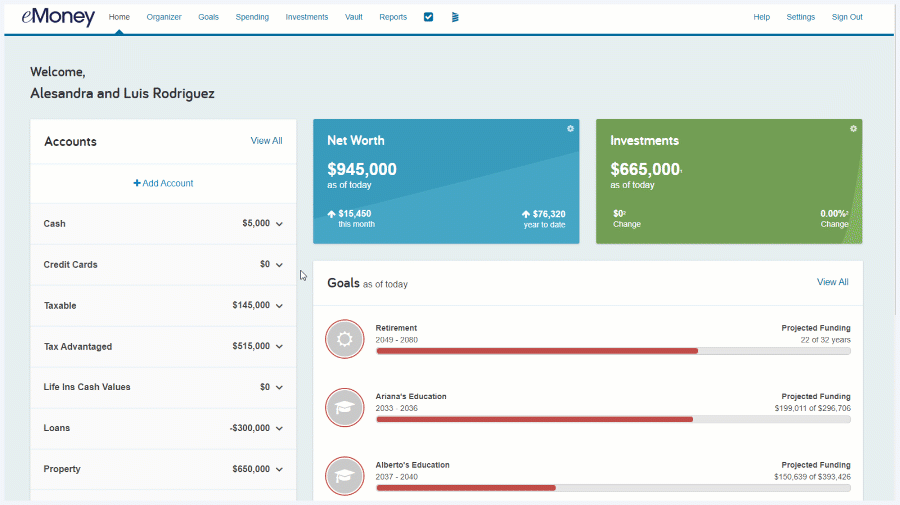 Account aggregation allows financial professionals to save time, reduce errors, and improve their client experience by ensuring a more complete and accurate view of their financial environment.

Accelerate the time from prospect to planning
Uncover opportunities to increase AUM
Produce a more personalized planning experience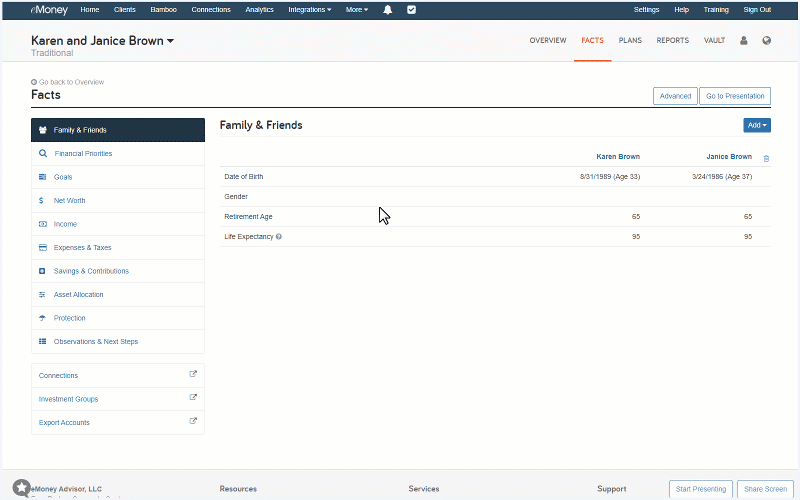 Rest assured that your data is protected using best-in-class security practices and a robust strategy that accounts for technology, people, and processes.

eMoney adheres to the highest information security standards because we know how critical data security is to your reputation, revenue, and regulatory requirements.
We maintain formal polices for network security, disaster recovery and business continuity which we test annually and adjust to address ever-changing industry and internet threats.
eMoney conducts security due diligence on all third parties to assess their risk level and we conduct annual reviews on those who have access to sensitive information.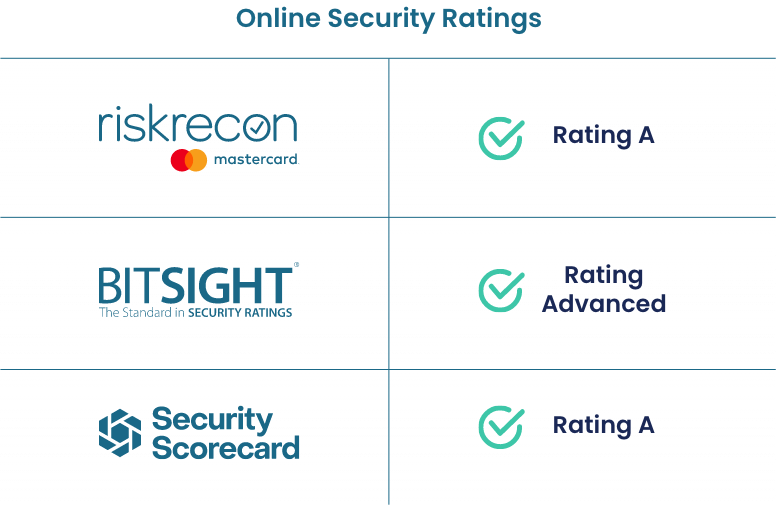 Services and Support
Support included with all products
Onboarding and Training
Training and coaching from eMoney experts to help ensure every user can learn and master the eMoney platform.
Client Support
Get answers to all of your eMoney questions from our award-winning support team of eMoney experts, available Monday through Friday, 8:00 a.m. to 8:00 p.m. ET.
Professional Services
Access to additional services when you need it—anything from data entry to plan development to consultative services.