eMoney Advisor Wins 2023 Stevie Award for Great Employers in Workplace Health & Wellbeing Category
eMoney Advisor, a leading provider of technology solutions and services that help people talk about money, has been named a bronze winner in the eighth annual Stevie® Awards for Great Employers in the Workplace Health & Wellbeing category. The awards ceremony took place in New York City on September 18, 2023, and eMoney's director of total rewards, Elizabeth Tucker, accepted the award on eMoney's behalf.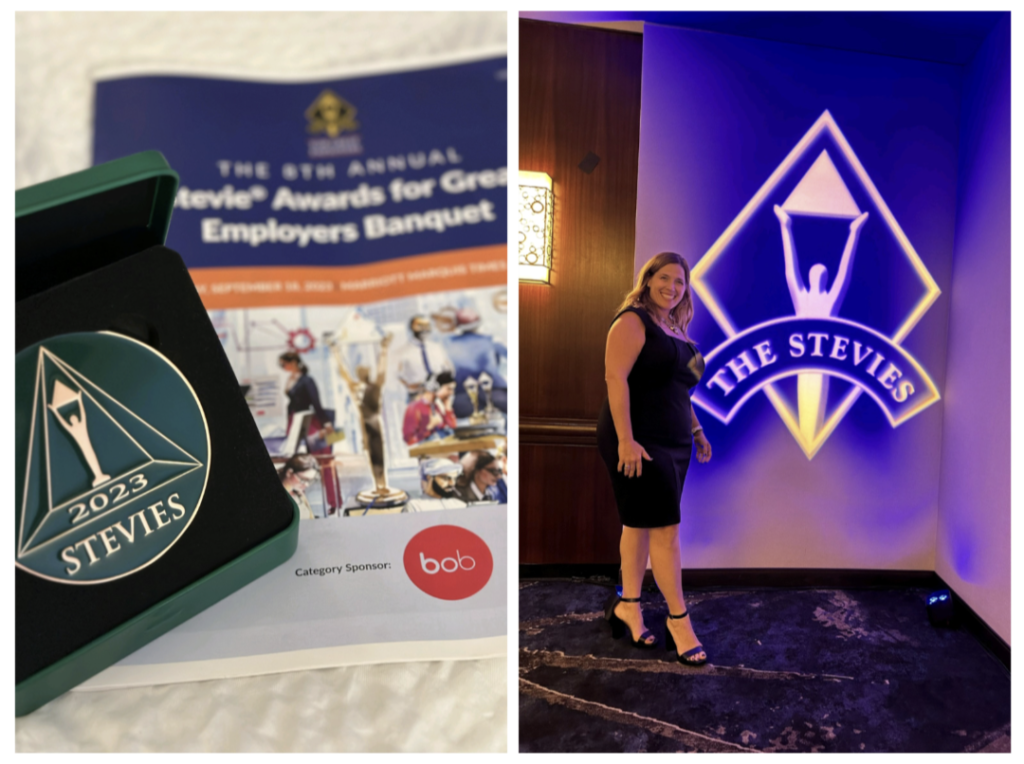 The Stevie® Awards for Great Employers recognize the world's best employers and the human resources professionals, teams, achievements and HR-related products and suppliers who help to create and drive great places to work. This year, more than 1,000 nominations from organizations of all sizes in 28 nations were submitted for consideration.
"This award reaffirms our commitment to fostering a culture that prioritizes the health, happiness, and overall wellbeing of our employees," said Joanne Del Signore, head of people experience at eMoney. "We are incredibly proud of this achievement, and it's all thanks to the dedication and efforts put forth to capture timely feedback from employees to better understand what's most important to them so we can offer meaningful benefits and provide relevant opportunities for wellness."
Here are some of the key factors that contributed to the recognition:
Supporting a remote-first work environment. eMoney has not required employees to return to office spaces but instead focuses on ways to increase remote engagement across the organization while offering opportunities for in-person connection – enabling employees to enjoy where they work as much as they did before and still find work-life balance and overall wellbeing that suits them.
Valuing diversity. One of eMoney's core values is Diversity, Equality, and Inclusion. As part of that commitment, a Diversity, Equity, Inclusion Leadership Council meets regularly to innovate practices that foster inclusion and collaboration across the organization. eMoney continues to reinforce that employees should feel like eMoney is their home and they can be their true selves at all times.
Wellness webinars featuring guided meditations. These sessions helped expose and encourage employees to take advantage of meditation during the day. Employees also learned how being more focused can help improve many aspects of life. Additionally, all eMoney employees receive free access to Headspace – a mental health app — providing them the tools to help incorporate meditation into their daily lives.
Virtual cooking experiences. Several family-friendly cooking events – with attendance from more than 500 attendees – have been hosted to reinforce the benefits of healthy eating in a fun and collaborative environment.
Movement challenges.More than 600 employees have participated in movement challenges in the last two years to help promote movement – which is good for the mind, body, and soul. By participating, employees were eligible to be entered in a raffle to win a Peloton bike (membership included) and gift cards. These challenges awakened employees' competitive spirits while getting them moving, engaging, and networking with individuals across the organization that they wouldn't otherwise interact with – helping create a stronger sense of community and connection.
The concerted effort to bring more awareness and opportunity for overall health and wellbeing to employees – especially as the organization transitioned to a remote-first organization in a post-pandemic world – has resonated with employees.
Every year, eMoney distributes an employee engagement survey to ensure the company continues to be a place where employees feel engaged, connected, and energized about their work. When comparing our 2023 results to previous years, the Total Rewards (benefits and wellness) score has risen 14 points from 2021 to 2023.
2022 – 51% favorable
2023 – 65% favorable
In addition, eMoney added questions related to employee's feelings on wellbeing in the 2023 survey – which included the following statements (and corresponding results):
"I can be my authentic self at work" – 84% favorable
"I believe employee wellbeing is a priority at eMoney" – 87% favorable
"I am able to arrange time out from work when I need to" – 96% favorable
Learn more about eMoney's culture here: emoneyadvisor.com/about/careers/