eMoney Presented with Wealth Management Awards for Data Aggregation, Financial Planning and Innovation
eMoney had a successful night on Thursday, September 9 – walking away with three wins at the prestigious 2021 Wealth Management Industry Awards. This year's hybrid event was organized by a great team at WealthManagement.com who presented awards in dozens of categories to asset managers, technology providers, custodians and other organizations. eMoney took home wins in the technology providers category for Account Aggregation (API Strategy), Innovation New Applications (Incentive), and Financial Planning.
eMoney has received a total of 13 "Wealthies" from the WealthManagement.com program, which is in its seventh year honoring outstanding achievements by companies and organizations that support financial advisor success. In 2021, more than 900 entries from 300+ companies were submitted.
"This recognition speaks to our commitment to continuously developing, enhancing, and delivering high-quality products and solutions to nearly 80,000 financial professionals," said Ed O'Brien, CEO of eMoney. "These wins belong to our incredibly talented team of innovators who make things happen every day at eMoney."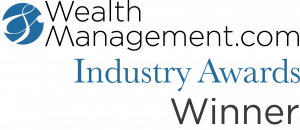 About the Winning Categories
Account Aggregation: API Strategy
eMoney is constantly reevaluating how to meet the highest standards of data security and minimize risk when aggregating data. To support this movement and to remain a leader in financial data aggregation, governance, and protection – eMoney is continuing to transition from credential-based data aggregation to application programming interface (API)-based data aggregation to better protect confidential client credentials and give end-clients more control over how and where their data is used. Learn more about eMoney's transition to API-based connections here.
Innovation New Applications: Incentive
Incentive is eMoney's financial planning and wellness mobile app, which launched in January. The client-led financial planning and wellness app, available for use through retirement plan financial professionals, is aimed at introducing basic financial planning concepts and encouraging long-term behavioral changes to help users achieve their goals in engaging and actionable ways. Learn more about Incentive here.
Financial Planning: Collaborate Planning Services
Earlier this year, eMoney launched Collaborate Planning Services, a new outsourced planning solution. This new solution is designed to support financial professionals' planning needs so they can spend more time growing and improving client relationships. As eMoney continues to introduce new products and services to the market, Collaborate is another step toward expanding the eMoney brand, differentiating the company from the competition, and enhancing the value provided to clients.