3 Examples of How Financial Professionals Can Personalize Their Marketing
• Valerie Rivera • September 30, 2021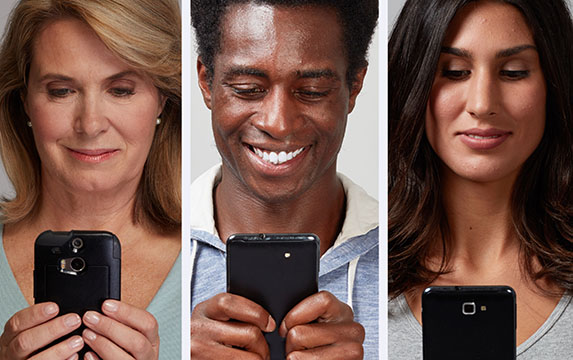 The relationship between client and financial planner is inherently personal, so it's not surprising that personalization is one of the best ways to enhance any financial professional's marketing strategy.
In fact, the eMoney Consumer Marketing Survey found that 84 percent of consumers identify personalized content as a very or extremely important factor when working with an advisor.1
Of course, recognizing the importance of personalization is one thing. Executing it is another. Here are some realistic examples of how to implement personalization in your marketing.
Example 1: Segment to Refine Your Messaging
To personalize effectively, you need to know who you're talking to. Get a full picture of your target audience by collecting data, then segmenting groups appropriately.
The importance of data and segmentation in personalization is obvious: The more data you can collect, the more ways you can potentially personalize.
Segment prospects based on buyer persona and current clients based on overarching demographics and core needs. Consider how you interact with them and what kind of information they need to accomplish their goals.
Scenario
Let's say you have a diverse client base consisting of individuals nearing retirement, retired individuals focused on build a legacy, and young families.
You've completed your midyear check-ins. Most of your clients are on target to meet their financial goals, but you want to keep them engaged with their plan.
To capitalize on the momentum from your recent meetings and provide additional value, you plan to send a piece of content that's relevant to your clients.
How You Can Personalize
Instead of sending one blanket email with a piece of content to all your clients, group them into segments based on their key planning concerns.
For your clients approaching retirement, choose content that highlights the financial challenges facing retirees.
This piece touches on many of the topics you regularly discuss with clients in this segment. It may also remind your clients of some of the tasks they need to perform to meet their goals.
Utilizing segmentation to create a personalized experience will not only raise engagement but also provide more value and create a stickier client experience.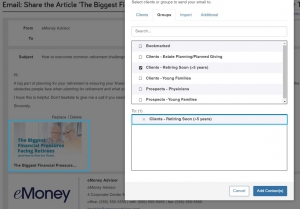 Example 2: Customize CTAs for a Consistent Experience
Tailoring your calls-to-action (CTAs) to reflect the buyer's journey is a powerful personalization strategy. One study even found that personalized CTAs convert 202 percent more than generic ones.2
While the buyer's journey tends to follow the same general steps, every firm moves prospects through the funnel differently. Every CTA should take your firm's unique journey into account.
Ensure your CTAs speak to your prospect's key concerns during that stage of their journey. They should also communicate exactly what prospects can expect next to create a seamless experience.
Scenario
Let's say you're a niche planning firm that markets exclusively to women. You've created a successful campaign to attract new clients and you're nurturing several prospects through email.
As part of the nurturing process, you send prospects a helpful article about the most common financial concerns women face. The article lives on a landing page.
To increase the likelihood that your content will convert these prospects into clients, you want the CTA at this stage of the campaign to be crystal clear.
How You Can Personalize
First, consider what your prospects may need at this point of the buyer's journey. When they receive this article, they're firmly in the nurture stage. You've been building a relationship with them for weeks. It's time to provide conversion opportunities.
Place a form on the article landing page that prospects can fill out when they're ready to schedule a phone call with you.
Rather than using a generic CTA, tailor it to reflect your firm's process. Once the prospect fills out the form, your administrative assistant will reach out to the prospect to schedule a call. You set these expectations in a clear, compelling way in the CTA.
This not only creates a more personalized feel but also begins their client experience on the right foot.

Example 3: Use Data to Increase Engagement
Personalization is all about using data and analytics to create an experience that meets prospect and client needs. Data gives you a clearer picture of who your audiences are and what they need from you.
Think about the creative ways you can use the data you have on hand to create more meaningful interactions with your firm.
Keep in mind that the data you don't use is just important. You must create a personalized experience without crossing into "big brother" territory.
Scenario
Let's say you recently held a webinar on how to balance a budget.
Before the webinar, you collected the attendees' information through a digital form—including their names, email addresses, phone numbers, and city and state of residence.
The webinar was successful and several new prospects attended. You want to keep your planning services on their radar so you decide to send them an email featuring a piece of content.
How You Can Personalize
Start digging into the data you have about these prospects to help guide your personalization efforts.
Since your prospects attended a webinar about budgeting, assume they may be struggling with debt. With this in mind, choose a piece of content that explains how to pay off debt efficiently.
Look for other opportunities to personalize. Utilizing data collected from the webinar form, you discover that a handful of prospects are from the Washington D.C. area.
Send an individualized email to these prospects and customize the first sentence to make it relevant to Washington D.C. This helps differentiate your email and makes it more relevant to your prospects in this segment.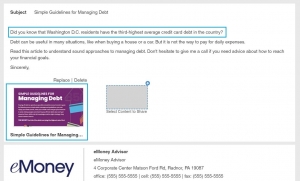 Scaling Personalized Marketing
The possibilities for personalization are endless. It just depends on how you segment your audiences, how much data you have access to, and how creative you can be.
Personalization may look like a heavy lift, but it's worth the effort. According to one study, 78 of businesses with a full or partial personalization strategy experienced revenue growth, while 93 percent of businesses with an advanced personalization strategy experienced revenue growth.3
Marketing automation solutions are essential for streamlining and scaling the personalization process outlined in this blog. But an automation solution is just one piece of the puzzle.
To learn more, watch our webinar below, "Assessing Your Digital Marketing Strategy," to evaluate your current marketing efforts and see what steps you can take to enhance them.
Sources:
1. 2021 eMoney ROI of Digital Marketing Survey, May 2021, n=188.
2. Vocell, Jeffrey. "Personalized Calls to Action Perform 202% Better Than Basic CTAs." HubSpot, 2020. January 21. https://blog.hubspot.com/marketing/personalized-calls-to-action-convert-better-data.
3. "2019 Personalization Development Study." Monetate, 2019. March 18. https://info.monetate.com/rs/092-TQN-434/images/2019_Personalization_Development_Study_US.pdf.
DISCLAIMER: The eMoney Advisor Blog is meant as an educational and informative resource for financial professionals and individuals alike. It is not meant to be, and should not be taken as financial, legal, tax or other professional advice. Those seeking professional advice may do so by consulting with a professional advisor. eMoney Advisor will not be liable for any actions you may take based on the content of this blog.
You may also be interested in...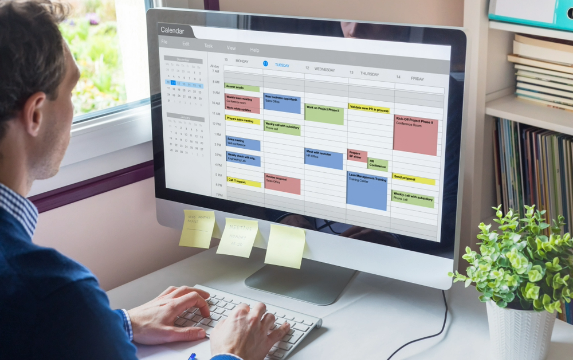 If you can't beat the bots, join them. That's the common view among forward-thinking advisors who are using artificial intelligence… Read More
Couples & Clashing Values: A Practical Guide
Download our latest eBook and get practical strategies for navigating money conflict between couples.
Download Now