Conflict Resolution in Financial Planning
• Megan McCoy • December 5, 2022
There's no denying that couples argue about money. As a financial professional helping couples plan for the future, you have likely experienced the discomfort that can occur when conflict arises.
By understanding and anticipating that they will be exposed to these situations during their career, financial professionals can employ practices from relationship counseling to address them when they happen.
Conflict Resolution Styles
When conflict is handled in a respectful and positive way, it provides an opportunity for growth. Any type of resolved conflict signals a couple's ability to agree upon and focus on their future. When the resolved conflict is about money it can enhance their likelihood of achieving desired financial goals.
By using conflict resolution skills, financial planners can help couples recognize the causes of their money differences—such as varied money histories, different money values, conflicting spending habits, or different needs for savings—to create a mutual understanding that allows for the development of a financial strategy.
As depicted below, people choose to respond to conflict in five basic ways that vary in assertiveness and cooperativeness.1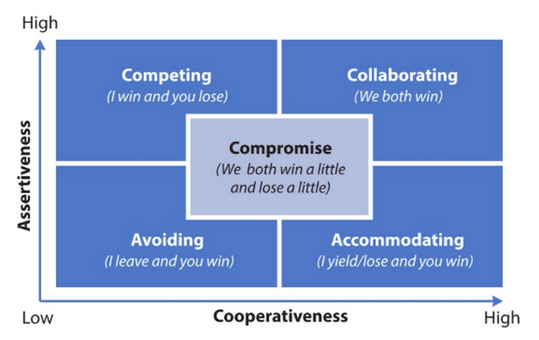 These styles include competing, avoiding, accommodating, compromising, and collaborating, and each has its place in mitigating conflict. However, collaboration is generally considered the best outcome when it comes to resolving financial disagreements as it results in a win-win for the conflicted parties.
Choosing Collaboration over Compromise
Compromise is often considered a good outcome to resolve conflict—each party gives up something they want to arrive at a solution they can both live with. But the problem with compromise when it comes to many situations—including financial—is that by giving something up, both parties are essentially losing. Over time, continual compromise can result in a buildup of hurt feelings that escalate into a much deeper problem—possibly even a failed relationship.
Working towards collaboration requires asking the conflicted parties to aim for a win-win. By taking the clients back to the beginning, the financial professional can get to the heart of what the couple in conflict truly wants out of their financial plan.
Using communication skills derived from financial counseling, learn what would be a win for each of the partners. The financial planner—and the couple along with them—will likely see that it goes deeper than what they are actually fighting about.
For effective collaboration, set the stage by highlighting that you are helping them look for the best solution that will address the issue or problem. Affirm that you won't just use one person's solution but will be aiming for a collaborative consensus. That means both parties can live with it and support it once implemented.
Begin by focusing on the common ground between the two parties and then brainstorm what a solution could look like with that common denominator in mind. List all possibilities that come to mind—there are no wrong answers—then settle on a solution that will make both parties happy.
At the end of this process when the couple has agreed on the plan, ask that they take a step back for one last look to ensure agreement.
The Role of Assertiveness in Conflict Resolution
The model for conflict resolution styles takes into consideration the assertiveness and cooperativeness of the conflicted parties. A further downside to compromise when it comes to resolving conflict is that it tends to benefit people who are more assertive—it rewards those with more forceful personalities in favor of finding a quick solution.
Assertiveness is often conflated with aggression. But a lot of aggression is actually an artifact of the individual not knowing how to be assertive. In a financial planning situation, the person who is not sharing their feelings and not being open is clearly not assertive. But an aggressive person is not being assertive either—they may be scared that they'll be hurt or their needs won't be met, so they're reacting physiologically instead of clearly stating their needs.
This can put the financial planner in a challenging position, but also present an opportunity to really help. When working with a conflicted couple, financial professionals can employ nonviolent communication to help keep couples on the path to collaboration.
Nonviolent communication was created by Marshall Rosenberg in the 60s.2 The premise is that all human behavior stems from attempts to meet universal needs, but we tend to use coercive or manipulative language that aims to induce fear, guilt, or shame, to make people meet our needs. These are considered violent modes of communication. However, when we use nonviolent communication, we can get our needs met and foster intimacy in our relationships.
The first step in helping clients communicate assertively is to have them start with a very simple explanation of their observation of the situation. Nothing that exaggerates or evaluates—just the facts of what happened.
Then have them move on to describe how this makes them feel and the need these feelings created. Finally, the client should make a request of something that would meet the need that was created by the initially observed situation.
When trying these actions for the first time, let clients know that this is something new you want to try to help them reach a resolution. Demonstrate transparency and patience. Resolving the conflict doesn't have to be concluded during one meeting. It may take time to reach a satisfactory conclusion.
It's also important to note that when financial professionals find themselves in an uncomfortable situation, it is okay to acknowledge that things are escalating and perhaps it's a good time to take a break. It's better to go slow and set the stage rather than rush into these sensitive topics.
The Argument for Conflict
There will always be conflict in relationships—and that isn't necessarily a bad thing—people have the right to differing opinions. When money is added to the mix, financial planners can play a valuable role in helping couples collaborate.
By promoting effective, healthy communication, couples experiencing financial conflict can learn to understand each other better and make their relationship stronger. Research has found that conflict helps us meet each other's needs better, helps us connect, and helps us achieve new levels of intimacy.3 When couples have conflict, it should be seen as a gift they give each other because their relationship will be stronger for working through it.
If you want to continue learning about financial psychology tactics to elevate your planning services, I encourage you to watch the on-demand recording of my recent panel discussion: Yours, Mine, or Ours? where my fellow panelists and I dive deep into how to help couples manage money in their relationships.
DISCLAIMER: The eMoney Advisor Blog is meant as an educational and informative resource for financial professionals and individuals alike. It is not meant to be, and should not be taken as financial, legal, tax or other professional advice. Those seeking professional advice may do so by consulting with a professional advisor. eMoney Advisor will not be liable for any actions you may take based on the content of this blog.
The views and opinions expressed by this blog post guest are solely those of the guest and do not necessarily reflect the opinions of eMoney Advisor, LLC. eMoney Advisor is not responsible for the content, views or opinions presented by our guest, nor may eMoney Advisor be held liable for any actions taken by you based on the content, views or opinions of the guest.
Sources:
1 Asebedo, Ph.D., CFP®, Sarah D, and Emily Purdon, CFP®, EA. "Planning for Conflict in Client Relationships." Journal of Financial Planning, 2018, 48–56. https://www.financialplanningassociation.org/sites/default/files/2021-03/OCT18%20Planning%20for%20Conflict%20in%20Client%20Relationships.pdf.
2 Rosenberg, Ph.D., Marshall B. The Center for Nonviolent Communication, 2012. https://www.cnvc.org/about/marshall.
3 Gottman, Ph.D., John. The Gottman Institute https://www.gottman.com/.
You may also be interested in...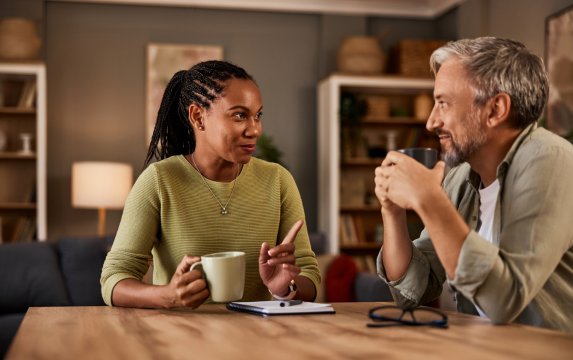 Listening is important in understanding clients, developing trusting relationships with them, and helping them plan for their financial future. It's… Read More
eBook: From Portfolio Manager to Planner
Download our latest eBook and learn how to use the data you already have to evolve your business and client relationships.
Download Now