Essential Marketing Advice for Financial Professionals Who Want to Make an Impact
• eMoney Communications Team • July 22, 2021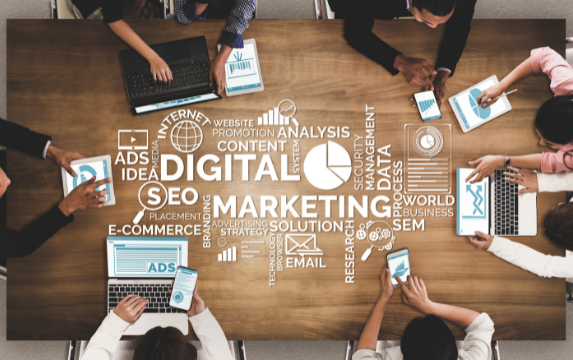 Digital marketing for financial professionals has quickly risen in importance for most firms—both because of the pandemic's acceleration of digital trends, and because of consumers increasing use of digital channels to search for and solicit financial advice. Financial professionals who want to reach prospective clients and make a considerable impact on their financial wellness need to know how to generate new business online.
In the final episode of Season 2 of the That Makes Cents podcast, host Spencer Israel talks about exactly this with Valerie Rivera, Senior Product Marketing Manager at eMoney Advisor, who leads the go-to-market strategy for the suite of eMoney business development solutions, and Mac Gardner, CFP ®, Founder and Chief Education Officer at FinLitTech, who has over 20 years of experience in financial services and authored two influential financial literacy books.
What's Most Important in Creating a Digital Marketing Strategy for Financial Professionals?
Rivera says that financial professionals creating a digital marketing strategy should start by reflecting on themselves and their services. It's important to define who you are, who your firm is, what you do, how you do it, and why you are different. Once you know this, you can focus on why you do what you do and who are you are doing it for.
These questions may not be easy to answer, but they are essential first steps in establishing your digital marketing strategy because there is a specific audience out there that will relate to your message. This audience will be your target market, and once you know your target market, marketing comes down to setting goals and identifying how to achieve those goals. This is your digital marketing strategy at the highest level.
What are the Best Ways for Financial Professionals to Connect with New People?
Connecting with new prospects, Rivera says, is all about demonstrating expertise, building credibility, and establishing thought leadership in a specific area. Content marketing is the best method for doing this. Past That Makes Cents guests have been doing this very effectively—Dr. Brad Klontz used TikTok videos, Celeste Revelli used Instagram, and Lou Melone used email newsletters. Another financial professional used a podcast to generate $1 million in new AUM every month.
Whether it's a blog, a podcast, a newsletter, social media, or any other digital outlet, creating original content allows financial professionals to showcase their personality, experience, and insight in a way that no other marketing tactics allow. It's an incredibly powerful way to build trust and spark a planning relationship with people online.
What's Been Most Effective in Your Financial Professional Marketing Experience?
Over the course of his 20+ year career in financial services, Gardner says there are three things he focuses on most when marketing himself or his businesses: education, storytelling, and simplifying complex concepts.
Gardner says it's easy to assume that people with a lot of money know how to manage it, but when he was running his firm, he learned that was not the case. Most people haven't had any type of financial literacy education or training at all. In this way, there's a huge opportunity for financial professionals to connect with people by telling relatable stories, creating little phrases that make things easy to remember, and taking every opportunity to educate people on important financial concepts.
If There Was One Thing Financial Professionals Should Know About Marketing, What Would It Be?
One thing Gardner learned during his career was that most successful financial professionals have a well-defined brand. Over the course of your career, people will likely start saying you need to specialize in something. It could be in 401k plans, retirement income planning, money management, or anything else. But finding that space where you feel comfortable and where you like to help people is important. That's where you can build your brand. But don't feel you have to stay within the confines of your specialty.
The best financial professionals aren't afraid to expand their brand. There are a number of tools out there that can help you and you should get comfortable using them. Stay strong enough to be confident in your brand but be flexible enough to try new things.
Where Do Marketing and Financial Wellness Intersect?
Financial wellness is an area where a lot of people have questions, says Gardner. People are looking for help and guidance, and they need it more than ever right now, so financial professionals have a great opportunity to address this need with educational content. That's where marketing and financial wellness intersect.
Gardner actually built FinLitTech for this exact reason—to bridge the gap between fintech and financial literacy. There are a ton of tools out there to help people manage their money, but there are very few that actually teach people about money. Given the massive amount of people that never receive any kind of formal financial education, they are missing this educational aspect of money management. Financial professionals are in a great position to give people the resources and guidance they need to make better financial decisions and make advice more accessible.
Rivera agrees on this point. Effective marketing, particularly content marketing, positions financial professionals as a trustworthy source of knowledge for anyone looking for information. Educating an audience through content can help them get through pandemic-related difficulties and the heightened focus on financial circumstances and wellness. Financial professionals can make an impact, even for people who aren't current clients.
That Makes Cents Season 3: Financial Wellness with Host Mac Gardner
With Season 2 coming to a close, we're excited to announce that Mac Gardner will be the host of Season 3 of That Makes Cents. This coming season will focus on the topic of financial wellness and feature a number of guest speakers and thought leaders from around the financial services industry.
Learn all about the role of money in overall wellbeing, and how you as a financial professional can positively impact that wellbeing, by tuning in to Season 3 of That Makes Cents.
DISCLAIMER: The eMoney Advisor Blog is meant as an educational and informative resource for financial professionals and individuals alike. It is not meant to be, and should not be taken as financial, legal, tax or other professional advice. Those seeking professional advice may do so by consulting with a professional advisor. eMoney Advisor will not be liable for any actions you may take based on the content of this blog.
You may also be interested in...
New client acquisition is an essential task for any financial professional looking to grow their business. But financial advisors often… Read More
eBook: From Portfolio Manager to Planner
Download our latest eBook and learn how to use the data you already have to evolve your business and client relationships.
Download Now