Exploring Financial Therapy to Master the Emotions of Money
• Mac Gardner • August 9, 2021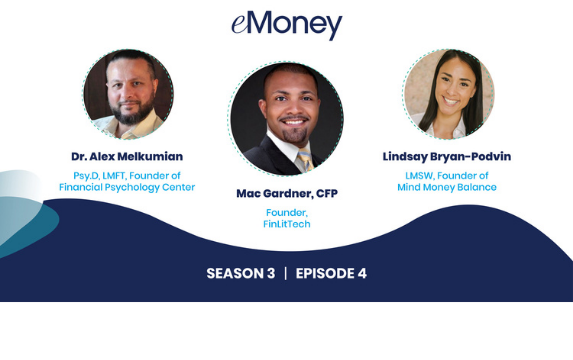 Updated on: September 15, 2022
We can't delve very far into the subject of financial well-being, without exploring how money impacts our clients emotionally. And when the emotional response to money-related matters influences a person's ability to properly plan for their future, financial therapy provides a means to overcome these hurdles. In Season 3, Episode 4 of That Makes Cents we look at behavioral finance and how financial professionals can take a cue from financial therapy to understand their clients' money emotions.
My guests for this episode were Dr. Alex Melkumian, PsyD, Licensed Marriage and Family Therapist (LMFT) and founder of Financial Psychology Center, and Lindsay Bryan-Podvin, a social worker-turned-financial therapist who founded Mind Money Balance.
Alex began his career as a general therapist in Los Angeles—a crowded therapy market. During the recession of 2008, he was hearing more and more about his clients' financial stress. He realized this was a niche in the field of therapy that needed further support, so he founded the Financial Psychology Center to help people discover where their money and emotions meet.
Lindsay began her career as a social worker who, in learning how to better manage her own money, discovered that a lot of the advice was laced with shame—that she wasn't saving enough, that she was spending too much, that she wasn't smart enough to manage her own finances. In working with anxiety and depression clients, she found they were also talking about the impact money had on their mental health. She started Mind, Money, Balance in 2018 where she works with clients to help them find financial and emotional balance.
The Marriage of Clinical Psychology and Financial Planning
I've always been fascinated by the ways in which our feelings about money impact our financial success. We know as financial professionals that our clients' emotions and behaviors drive a lot of their financial planning—positively and negatively. Yet we are not trained therapists, so how do we help our clients when their emotions get in the way of meeting their financial goals?
As Alex pointed out during our discussion, "When I meet with a client, I am looking at the pain point or access point of their relationship with money. The question I ask myself when working with clients is 'Why is this client seeking help?' Most often it's because of financial stress."
Lindsay related her experience by adding, "Something I hear over and over when I talk to financial professionals is how they feel like they are their client's therapist." But there are distinct differences. She continues, "I think that they [financial professionals and financial therapists] can each learn from the other profession while staying within their scope of service—as a therapist, I am never going to sell products or create plans, but I can talk to clients about what is making it hard for them to budget or what is getting in the way of them talking to their partner about money."
Financial Planning Through the Lens of Financial Therapy
As Alex put it so well, "We [therapists and planners] are both looking at behavior and outcomes." As a financial professional, you are creating a plan for your client and there are certain behaviors they must demonstrate to reach their goals.
You have probably all been in a situation where you have met with a client and agreed to an itemized spending plan or specific investment strategy. You have ensured the client has the knowledge and understanding to implement it. But something gets in the way—their internal wiring is tied to so many other emotional things that they can't execute.
This is an important thing for financial professionals to remember. When they work with a client that seems to be procrastinating on certain financial tasks or sabotaging their plan in other ways, they are not doing this maliciously. They aren't lazy or deliberately ignoring your guidance. There is most likely something deeper going on.
"Financial advisors are not therapists, but it doesn't take being a therapist to practice some therapeutic skills," said Lindsay. It could just be a matter of changing up how you present a task to your client.
She elaborated, "I recommend soliciting client feedback and using active listening for their responses. Instead of saying 'Hey here's an itemized budget for you, go ahead and run with it. It's going to be perfect for you.' A better way to approach it is to say, 'I've put together what I think is a good budget for you, but let's review it together. How does this fit into your lifestyle? What do you like about it? What don't you like about it?' Give the client the autonomy to say, 'I like 80 percent of what you have put together here but these few items aren't going to work for me.' Give them the opportunity to buy into what you are presenting."
Financial Therapy Forges a Path to Achieving Financial Wellness
The saying goes that money can't buy happiness. But taking this a step further, I would add that your feelings about money have a big impact on your happiness. Money gives you options—it gives you a level of comfort and security. However, if you are not able to approach the management of your finances because of your emotions pertaining to money, your financial wellness is in jeopardy.
Lindsay believes, "We need to stop playing this game that money and happiness are somehow separate. The way we earn, save, spend, and invest does impact our overall well-being and advisors can play a beautiful role in their client's lives by helping to manage this relationship."
Alex agrees that just talking about money goes a long way in helping clients improve their emotions around it. He suggests, "There's a money taboo—we know more about our friends' sex lives than we do about their financial standing and well-being."
I really like his definition of financial wellness, which is "when our financial actions and decisions are congruent or aligned with our thoughts and emotions."
Financial Technology Can Ease Money Stress
While technology can be a double-edged sword when it comes to managing personal finances, both of my guests were quick to focus on the positive. Lindsay feels that technology is great in the context of helping people make financial decisions.
She elaborated, "The human mind is very complex, so I love working with clients to help them automate their savings or their investments. As humans, we might spend that extra $200 in your account at the end of the month. If it's automated to savings, it will pay dividends for the future."
Alex agrees, adding that automating money decisions "gives you a strategy to protect yourself from yourself; if you know you will spend it if you have it, you can automate [the act of] paying yourself first."
Financial professionals have to remember that no budgeting app is behavior-proof from your client's unconscious mind, but we can help them by working with them to understand what their default money behaviors are.
The Human Side of Financial Planning
Your clients are a collection of all sorts of different experiences. Taking a cue from financial therapy specialists like Alex and Lindsay will help financial professionals recognize that there are behavioral drivers that need to be addressed differently for each client.
For so much more about the role of financial therapy in helping your clients in their quest for financial wellness, listen to Episode 4 of Season 3 of That Makes Cents.
DISCLAIMER: The eMoney Advisor Blog is meant as an educational and informative resource for financial professionals and individuals alike. It is not meant to be, and should not be taken as financial, legal, tax or other professional advice. Those seeking professional advice may do so by consulting with a professional advisor. eMoney Advisor will not be liable for any actions you may take based on the content of this blog.
The views and opinions expressed by this blog post guest are solely those of the guest and do not necessarily reflect the opinions of eMoney Advisor, LLC. eMoney Advisor is not responsible for the content, views or opinions presented by our guest, nor may eMoney Advisor be held liable for any actions taken by you based on the content, views or opinions of the guest.
You may also be interested in...
Amid the Great Wealth Transfer, with $84 trillion set to be passed between generations in the next two decades1, there's… Read More
How Does Your Client Experience Stack Up? Take the Assessment!
Only 26% of financial planners say their clients are highly engaged and motivated. Take this self-assessment to see how your client experience compares!
TAKE THE ASSESSMENT