Financial Fights: How to Help Your Clients Work Through Them
• Sasha Grabenstetter • February 1, 2022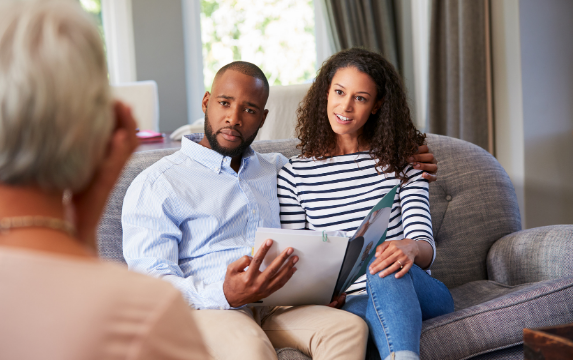 Updated on: September 15, 2022
For most of us, the way we discuss money today comes from our parents or guardians and how they were raised with the concept of money. Bringing another person into our financial situation can create friction and even lead to conflict.
One partner may have expectations and rules around money that the other partner might not be aware of. Even after many years together, partners can still feel like they're not on the same page financially.
So, what role does a financial professional play in financial conflicts between couples?
Back to the Start
When you meet with a new set of clients for the first time, it's best to have both spouses or partners present. You can have them both go through an onboarding process that can consist of goal-setting priorities, questionnaires, or even financial scales and tools to get a better understanding of your clients.
Remember, they're unique individuals with different financial socialization backgrounds. The way one partner discusses money may be completely different or even considered improper to the other partner.
In most households, money matters are considered confidential and may not be openly discussed as often as they should be. By going back to the start—building that foundation up with the planner as the third party to give insights and recommendations—you can help your client and their partner get on the same page and create goals toward their overall comprehensive financial plan.
Money Fights Will Happen
It's inevitable that fights about finances will occur. We know that money has been a top stressor over the last decade, and that stress is not just for individuals, it shows up in relationships as money arguments.1
Additional research shows that people who reported arguing often about money were nearly two and a half times more likely to experience reduced relationship satisfaction.2
Fights about money tend to be intense and are not as easily resolved. As the financial planner, you must help your clients look at their finances more objectively and take their personal issues out of the equation.
Some conflicts won't be able to be solved, especially those involving financial deception or infidelity. Financial infidelity is what it sounds like, it's a form of financial cheating. According to NEFE and their June 2021 Harris poll, two in five adults have committed financial deception—including 39 percent who had hidden a purchase, bank account, bank or bill statement, or cash. In the study, men were more likely than women to have committed a financial deception: 47 percent of men compared to 39 percent women.3
These types of deeply hurtful financial issues will need a referral as this is outside the scope of most financial planning practices. But many other types of financial conflicts or issues can be mitigated or resolved by financial planners.
Resolving Financial Conflict
If your clients are fighting, there are some techniques that you can use to help defuse the situation. Research from Asebedo states that your role as the advisor isn't to avoid money arguments but to help couples understand the issues and facilitate a resolution process.4 Asebedo has four steps to do this:4
People vs. the problem – separate the problem from the personal issues, focusing the spouses or partners on resolving the problem as a team, not tearing each other down.
Focus on the why and not the what – often this step is when spouses have to stop arguing and need to listen to each other being vulnerable with their "whys." If you feel like your clients are getting stuck in their old ways, you may need to make a referral, otherwise, they won't be on the same page financially.
Options to make both parties happy – sometimes it's best to brainstorm ways that both parties can get their "whys" accomplished. Maybe one spouse wants to focus on retirement, while the other wants to help pay for their children's college education. This is where the financial advisor can step in and in real-time show how both options can be achieved with financial planning. It may take less money than they originally thought for retirement, or if they work an extra year they can fund their children's dream schools. Whatever the outcome, this step is important for goal alignment.
Be a neutral third party – Using financial psychology tools and techniques in the intake process is important, as it can provide all the information a planner needs to be an objective third party in a financial conflict. Financial planners who know their clients very well can help clients align their goals.
While not every financial argument may be worked through with this method, it helps give a good baseline of where to start with clients who aren't on the same page for their financial future.
Guiding Clients Towards Financial Planning Success
Getting to know your clients as well as possible can help with joint goal alignment and remind them they're on the same team. As the financial professional, you can make recommendations that satisfy both parties and ensure the proposed financial plan is being followed.
Navigating money problems can be difficult for couples, but financial professionals who educate themselves on the potential pitfalls can make a huge impact. To learn more on this topic, watch our on-demand webinar, Love and Money, where we dive deeper into financial fights and how planners can get couples on the same financial page.
Sources:
1 Britt, S. L., Huston, S., & Durband, D. B. (2010). The determinants of money arguments between spouses. Journal of Financial Therapy, 1(1), 42 60.  https://doi.org/10.4148/jft.v1i1.253
2 Britt, S. L., & Huston, S. J. (2012). The role of money arguments in marriage. Journal of Family and Economic Issues, 33(4), 464–476. https://doi.org/10.1007/s10834-012-9304-5
3 "2 in 5 Americans Admit to Financial Infidelity Against Their Partner." National Endowment for Financial Education, 2021. November 18. https://www.nefe.org/news/2021/11/2-in-5-americans-admit-to-financial-infidelity-against-their-partner.aspx.
4 Asebedo, S. D. (2016). Building Financial Peace: A Conflict Resolution Framework for Money Arguments. Journal of Financial Therapy, 7 (2) 2. https://doi.org/10.4148/1944-9771.1119
DISCLAIMER: The eMoney Advisor Blog is meant as an educational and informative resource for financial professionals and individuals alike. It is not meant to be, and should not be taken as financial, legal, tax or other professional advice. Those seeking professional advice may do so by consulting with a professional advisor. eMoney Advisor will not be liable for any actions you may take based on the content of this blog.
You may also be interested in...
Amid the Great Wealth Transfer, with $84 trillion set to be passed between generations in the next two decades1, there's… Read More
How Does Your Client Experience Stack Up? Take the Assessment!
Only 26% of financial planners say their clients are highly engaged and motivated. Take this self-assessment to see how your client experience compares!
TAKE THE ASSESSMENT