The Role Client History Plays in Creating Strong Financial Planning Relationships
• Dr. Preston Cherry • November 30, 2021
Updated on: September 15, 2022
Growing up, everyone in my family changed their own motor oil. We'd purchase Quaker State—my dad's preferred brand—and a few filters. For around $40, we'd have enough to maintain both of our cars twice over.
When I was old enough to have my own car, I drove past an advertisement for motor oil that read "Pennzoil: $20." Hoping to snag a potential deal, I stopped in the store and asked the clerk what I'd get for $20.
They weren't sure what I was asking. After some back-and-forth, they finally explained that the $20 included six quarts of oil and that someone would change the oil for me.
I was shocked. I'd been changing my own oil since I was 10 years old. Doing it any other way wasn't even a question for us. It's just what our family did.
But in that moment, I wasn't just exposed to something new—I experienced a shift in financial values. Technically, I was paying more to have my car serviced, but in my mind, I wasn't just paying for the oil—I was also paying for my time. In fact, I never planned on changing my own oil again.
Whether we realize it or not, all of us follow financial scripts that we learn during our upbringing and throughout our lives. These scripts influence our financial behaviors, outlooks, and attitudes toward money. New experiences and ideas can change these scripts, so anyone seeking to influence or engage with their financial scripts needs to first understand them.
For financial planners, unlocking your client's scripts and understanding how they advance—and impede—their greater financial wellness is essential for creating a genuinely valuable relationship.
Why Is Understanding Your Client's Background Important?
Deepening Relationships and Creating Value
Truly holistic financial planning is led by your client's financial psychology. Financial psychology is our set of beliefs about money that influence our financial spending and behaviors.1
Aligning the financial plan with the broad tapestry of factors that influence the client's financial psychology—including life aspirations, as well as behavior and emotion management—is key for forging deeper, more fruitful planning relationships.
Deepening this relationship is beneficial for everyone. For clients, it helps them look beyond the facts and figures. It refocuses them on how the financial plan has a tangible impact on their lives and can help them manage their financial behaviors and emotions and, ultimately, meet their goals. For financial planners, a deeper relationship leads directly to more impactful plans and successful planning engagements.
By taking the time to understand the client's financial history and psychology, the planner highlights their true value and expertise beyond simply managing the mechanics of money.
See Your Client's Evolution in Action
Our attitudes about money are always shifting depending on our stage in life, our experiences, and the people we interact with.
Our attitudes about money are constantly influenced by our family unit—whether they live in the same household or not. For example, the next time I saw my dad changing his own oil, I let him know that I'd started getting my vehicle serviced instead of doing it myself.
He was initially shocked that I'd deviated from the family script, but when I explained my reasoning, he had a change of heart. He said, "You know what? That makes sense." From that day on, he stopped changing his own oil.
Having a deeper understanding of your client's experiences and keeping your finger on the pulse of their evolving attitudes can help you create that deeper relationship and, ultimately, provide more actionable financial advice.
Techniques for Uncovering Your Client's Financial Background
Don't expect to uncover your client's background organically. Getting to know your client's financial psychology must be approached with intention. While there are many methods for doing this, here are a few techniques you can incorporate into your planning process.
Conduct Motivational Interviewing
Motivational interviewing is an interviewing method that intends to undercover a person's intrinsic motivation to change.2
Though the technique was originally pioneered by counselors and psychologists, it has extensive applications in the financial advice industry.2 Financial planners can use motivational interviewing to understand how much work the client has done to unpack their current relationship with money.
If clients haven't taken the time to audit their financial feelings and experiences, then motivational interviewing can help inspire that engagement. It also helps planners build a rapport and provide neutral but helpful advice to clients who may have obstacles standing between themselves and their goals.
Engage in Story Exchanges
Engaging in story exchanges—in other words, telling your client a personal story of your own—can kick off deeper conversations about financial history while building trust. If you're having difficulty getting your client to discuss their experiences, open the conversation with your own related story.
While it's important to ask open-ended questions and give your clients room to tell their stories, sometimes telling your own financial story can make your client feel more comfortable—like they're engaging in a conversation with a trusted friend.
Leverage Positive Psychology Principles
Positive psychology is a sub-field of psychology that helps people lead fulfilling lives, further develop their strengths, and enhance positive life experiences.3
Financial planners can leverage positive psychology principles to focus not just on meeting the client's financial needs, but also on reaching a state of self-actualization when it comes to their financial life.
In pursuit of this goal, you need to address the financial scripts that inform the psychological and behavioral elements your client needs to live their happiest, most fulfilled life. 
What Financial Scripts Do You Follow?
The best way to truly excel at uncovering your client's background and understanding the impact that exploring financial psychology has on the financial planning process is by doing your own internal work.
Audit your own financial background and consider how it has influenced your financial psychology. This can help you have more open conversations with clients and give you insight into the transformational journey most of your clients will be on.
Once you do the work yourself, you'll see how an understanding of financial scripts will positively impact your clients' plans and well-being.
Sources:
1. "Financial Psychology and Behavioral Finance." Creighton University, 2021. https://gradschool.creighton.edu/programs/graduate-certificates/business/financial-psychology-behavioral-finance.
2. Grubman, James, Kathleen Bollerud, and Cheryl R. Holland. "Motivating and Helping the Overspending Client: A Stages-of-Change Model." Financial Planning Association, 2011. March 1. https://www.financialplanningassociation.org/article/journal/MAR11-motivating-and-helping-overspending-client-stages.
3. "Our Mission." University of Pennsylvania Positive Psychology Center, 2021. https://ppc.sas.upenn.edu/our-mission.
DISCLAIMER: The eMoney Advisor Blog is meant as an educational and informative resource for financial professionals and individuals alike. It is not meant to be, and should not be taken as financial, legal, tax or other professional advice. Those seeking professional advice may do so by consulting with a professional advisor. eMoney Advisor will not be liable for any actions you may take based on the content of this blog.
The views and opinions expressed by this blog post guest are solely those of the guest and do not necessarily reflect the opinions of eMoney Advisor, LLC. eMoney Advisor is not responsible for the content, views or opinions presented by our guest, nor may eMoney Advisor be held liable for any actions taken by you based on the content, views or opinions of the guest.
You may also be interested in...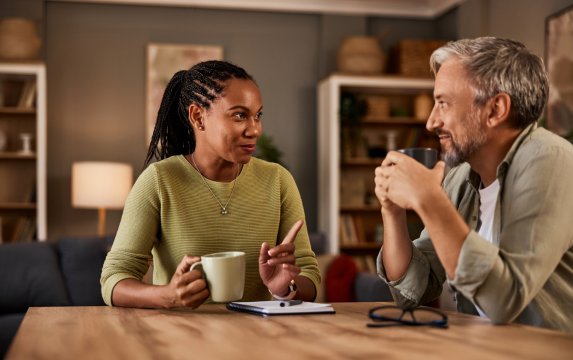 Listening is important in understanding clients, developing trusting relationships with them, and helping them plan for their financial future. It's… Read More
eBook: From Portfolio Manager to Planner
Download our latest eBook and learn how to use the data you already have to evolve your business and client relationships.
Download Now