Growing Your Financial Planning Practice by Leading with Planning
• Connor Sung • July 18, 2022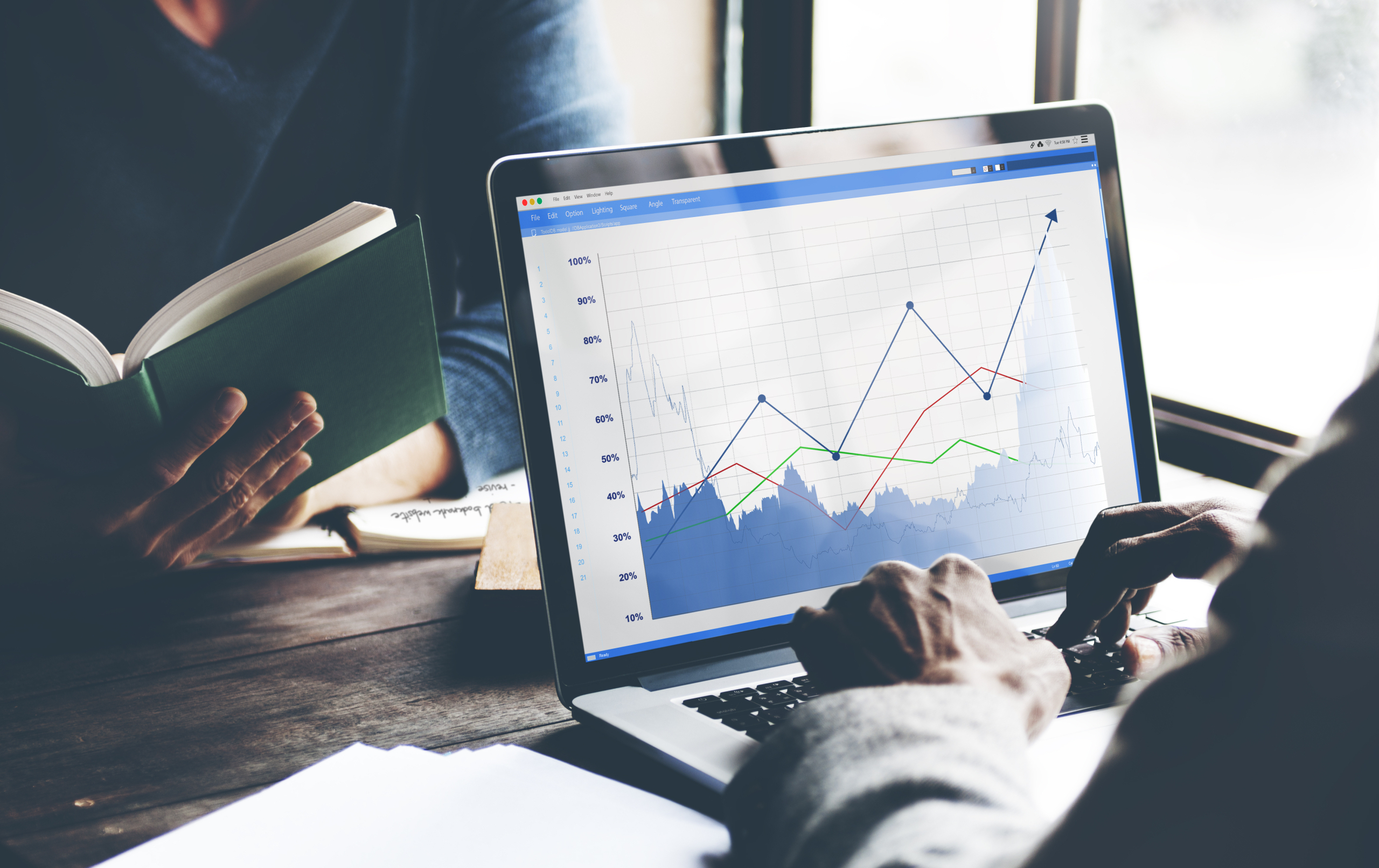 Financial professionals looking to grow their advisory practice may be wondering where to start and what firm attributes correlate with success. Our research shows that leading with financial planning—that is, putting it at the heart of your business and value proposition—creates vastly improved client and firm outcomes.
We studied firms who are leading with financial planning, offering it at equal or greater amounts than their investment management services, to determine the outcomes they see from their commitment to planning. These Financial Planners, as opposed to those who offer plans less frequently than asset management services, are seeing strong results in a number of ways.
Financial Planners Offer More Complex Plans to More People
Our research1 shows that those who specialize in financial planning tend to deliver plans to more of their client base, with only 16 percent of their clients not having a plan.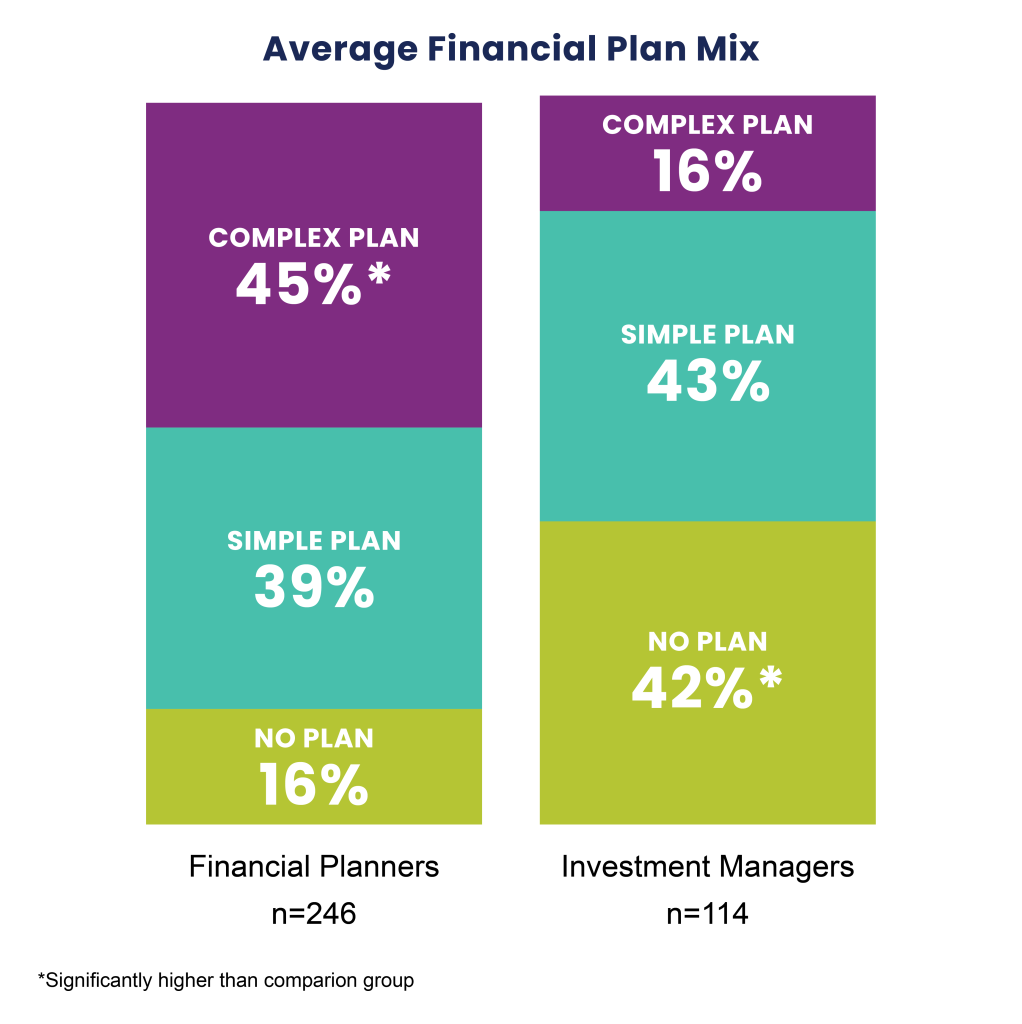 Financial Planners not only offer more plans, but they offer complex plans to more of their client base, with 45 percent of their clients receiving complex plans, compared to just 16 percent of those who don't specialize in financial planning. This is an important distinction, as our research shows that complex plans can earn higher margins.
Financial Planners Can Charge a Premium for Their Services
Financial Planners specialize in delivering an excellent client experience at scale. Because of this, they're able to charge more for their plans in many instances.
While many firms incorporate planning fees into their AUM fees, Financial Planners are significantly more likely to charge a separate fee for planning to augment their revenue.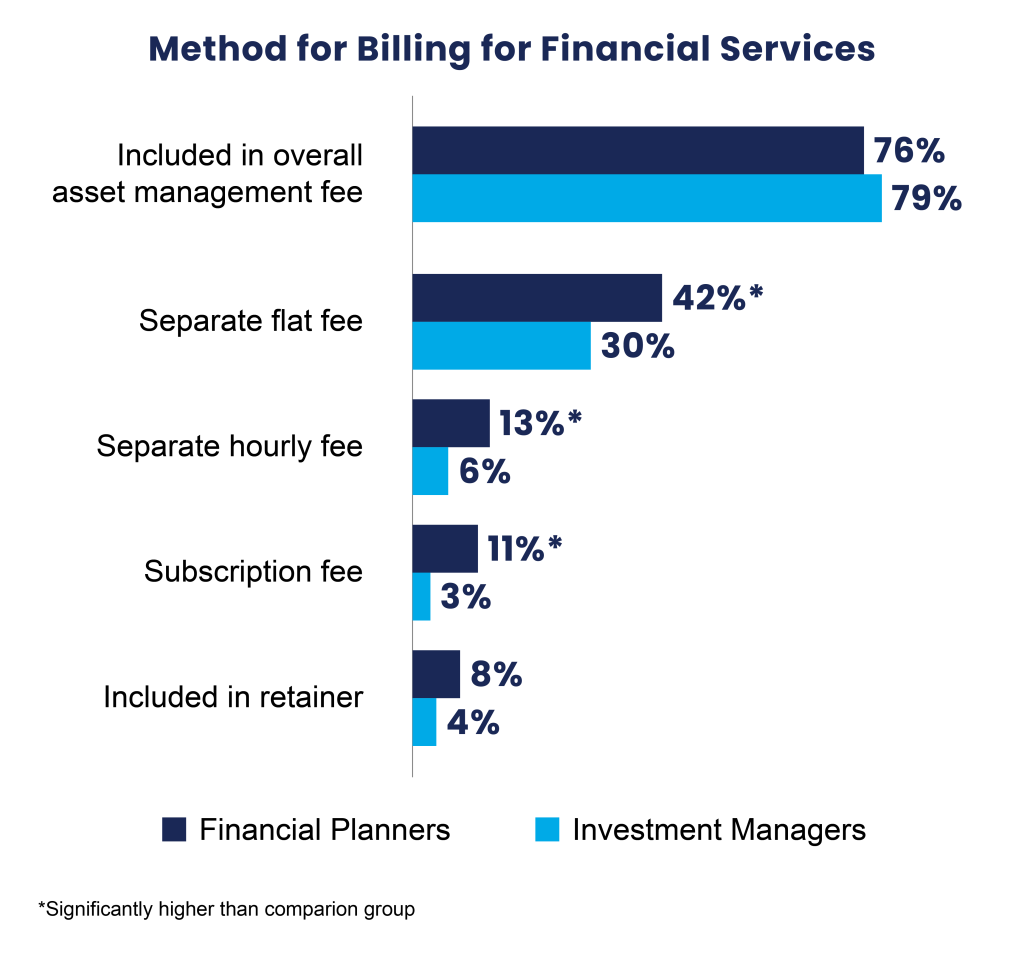 When looking at what firms are actually charging for financial plans, it's clear that Financial Planners are consistently able to charge above-average rates for financial plans. Here are the average fees charged by all financial professionals: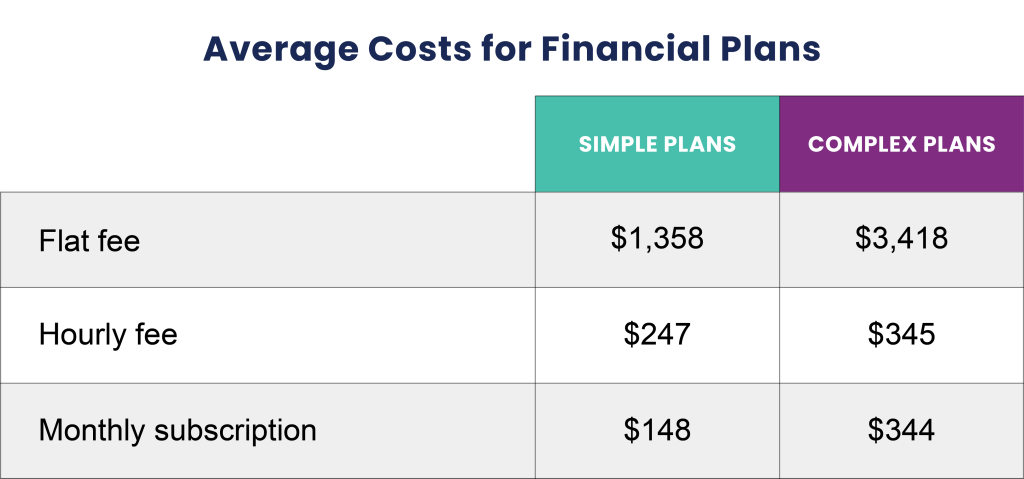 And here's how Financial Planners compare to others on complex plans:

Financial Planners charge substantially more than Investment Managers for complex plans, with the average flat fee for complex plans over $1,000 higher. Keep in mind that Financial Planners are also offering these complex plans to a significantly higher portion of their client base—almost half of their clients receive a complex plan.
Interestingly, Financial Planners are actually charging a lower price point on subscription fees, perhaps in an attempt to connect with the next generation of clients who are accustomed to subscription models in other industries.
Financial Planners Have a Strong Value Proposition with the Next Generation
Most firms struggle to connect with younger clients—only 18 percent of all financial professionals believe they have a strong value proposition for the next generation. Of those that do, however, 83 percent are Financial Planners.
This group of Financial Planners report benefits from financial planning services at far higher rates than those who feel they don't have a strong value proposition with the next generation.
This same group of Financial Planners that have a strong value prop with the next generation also engage in relationship-building tactics that help clients improve their relationship with money, get motivated to reach their goals, and improve their financial wellness, all in a scalable way.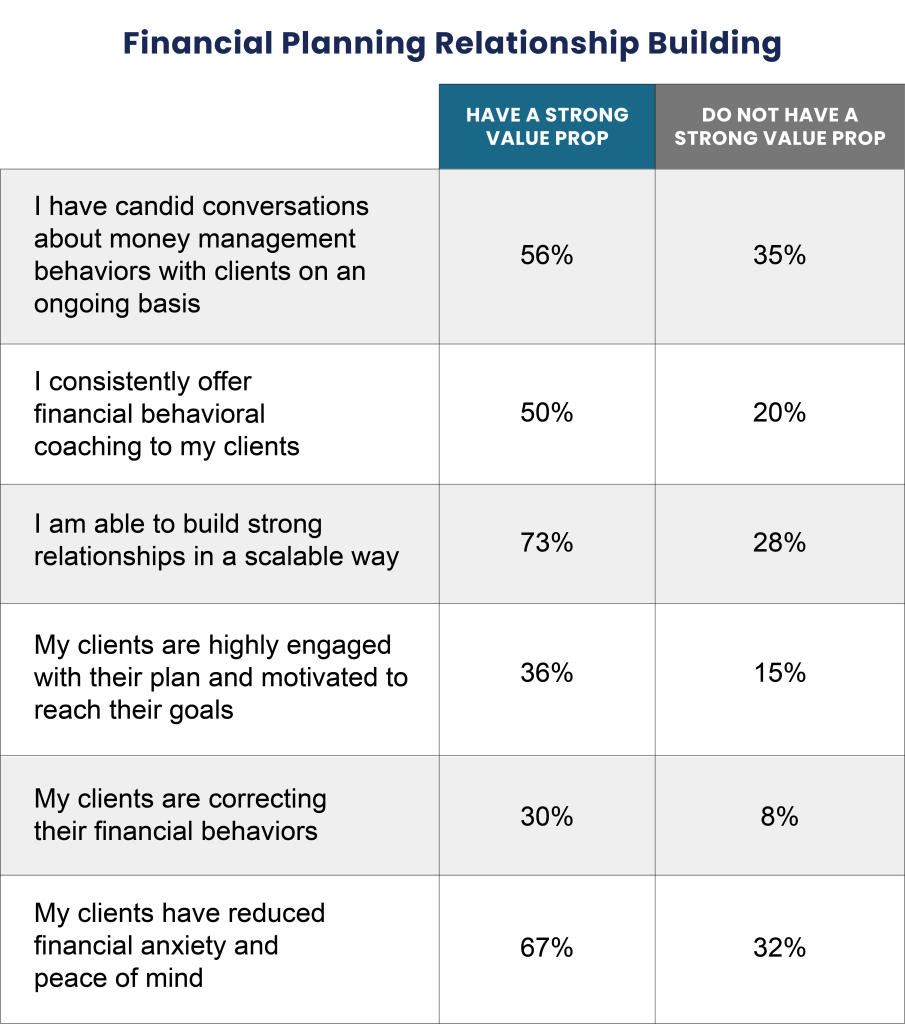 This group of Financial Planners has found a way to build deeper relationships in a scalable way, and because of this, report planning successes at far higher rates than those who have yet to figure out their value proposition for the next generation.
How to Lead with Planning at Your Firm
Financial Planners deliver more plans, charge a higher and separate fee for those plans, are able to connect with the next generation, and build deeper client relationships at scale.
How can you replicate these successes at your firm?
Start Financial Planning for More Clients
Financial Planners in this study are offering plans to the vast majority of their clients, many of whom are receiving complex plans. The first step in leading with planning is to roll out your planning services to more of your client base.
Many times, when financial professionals want to expand planning, their first thought is to try and go find new planning clients. It's actually far easier to start rolling out planning services to your existing asset management clients.
Greg Furer, CEO, and Founder of Beratung Advisors, has successfully rolled out financial planning to most of his client base and grown his firm's AUM by 500 percent. Watch the webinar below to get his step-by-step process for approaching existing clients and converting them into planning clients.
Increase Planning Revenues with a Separate Planning Fee
Financial Planners are far more likely to charge a separate fee for planning and feel that financial planning augments their revenue streams. Our research also showed that Financial Planners believe that separate fees allow them to better serve their clients.
Shifting away from the AUM fee for planning may seem like a challenge, but in addition to augmenting revenues, it opens the door for more efficient, scalable, and accessible planning services. The Millennial generation in particular is interested in fees for planning as a service.
If you're looking to implement a new fee, our eBook on shifting compensation models offers a comprehensive guide to making the switch.
And if you'd like more on the impact a separate planning fee could have on your firm, Bill Simonet of Simonet Financial walks through his firm's journey in finding the right fee and how it's led to significant planning growth.
Connect with the Next Generation
While only a small portion of financial professionals feel that they can connect with the next generation, the overwhelming majority of them are Financial Planners. This group of Financial Planners reports remarkable results in terms of client successes and their ability to cultivate deep relationships at scale.
The Millennial generation is redefining advice. Serving this generation starts with balancing the transactional and emotional aspects of planning, building a roadmap to their financial and life goals.
Millennials differ from other generations in that they want help establishing a budget, building savings for emergencies and retirement, and guidance on managing debt—all of which are pillars of financial wellness. But Millennials also want advice that transcends finances alone, including things like physical, mental, and relational health.
Connecting with this generation will require a combination of process improvements and technology use to deliver plans in an efficient, scalable way for multiple client segments. You can learn all about doing this in our post on financial planning for the millennial generation.
Growing Your Planning Practice
Leading with financial planning can help you replicate the successes of some of the top firms out there and prepare you for a radically different future of advice.
Effective financial planning, though, depends on consistently high client engagement throughout the planning process. To continue learning about how to elevate your planning and grow your firm, watch our recent webinar, 11 Ways to Engage with Purpose to learn all about getting clients engaged with their plans.
Sources:
1 eMoney Leading with Planning Research, May 2022, Advisors n=360
DISCLAIMER: The eMoney Advisor Blog is meant as an educational and informative resource for financial professionals and individuals alike. It is not meant to be, and should not be taken as financial, legal, tax or other professional advice. Those seeking professional advice may do so by consulting with a professional advisor. eMoney Advisor will not be liable for any actions you may take based on the content of this blog.
You may also be interested in...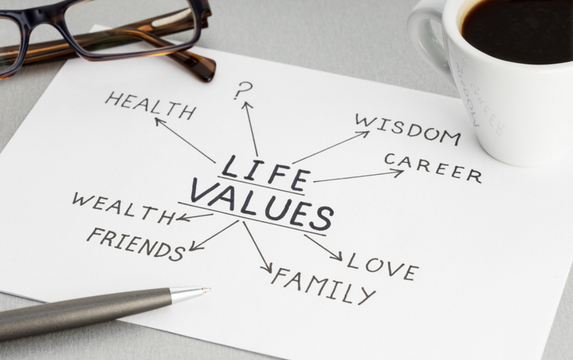 Holistic financial planning incorporates a client's total life and financial circumstances into their plan. The purpose is to go beyond… Read More
How Does Your Client Experience Stack Up? Take the Assessment!
Only 26% of financial planners say their clients are highly engaged and motivated. Take this self-assessment to see how your client experience compares!
TAKE THE ASSESSMENT