Help Employers Ease the Burdens on Employee Financial Health
• Paul Vieira • July 20, 2022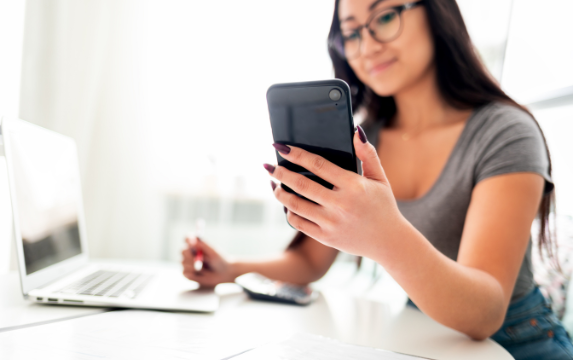 If companies are struggling to recruit and maintain their workforces, imagine the plight of the human resources professionals charged with hiring and keeping those workforces engaged. Human resources is a difficult job and the last two years have made it even harder.
Recent events have found many HR professionals are largely responsible for figuring out how to keep people working without disruption—whether remotely or safely in workspaces—all while dealing with the normal day-to-day challenges of their jobs.
As a result, a recent study found that 98 percent of HR professionals are burned out and only 29 percent feel that their work is valued in their organization.1 To top it off, along with feeling undervalued, HR departments are reporting that they are under-resourced with 73 percent saying they don't have the tools they need to do their job well.1
As a retirement advisor who is also looking out for the well-being of employees, you can offer some of the support they need to ease the burden.
Technology for Solving the Employee Financial Wellness Dilemma
The same events that impacted the jobs of HR professionals have made it clear that employees need help managing their financial lives and they want this help from their employers.2 Proprietary research conducted by eMoney found that 91 percent of employers agree that it's important they offer workplace financial wellness programs.3
The survey also found that the breadth and depth of important features employers either currently offer or plan to offer is extensive.3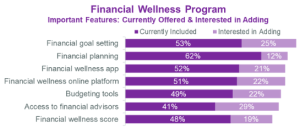 So, how does an employer find the time and resources to help employees improve their finances when they may have varying degrees of need across a broad demographic spectrum?
One clear answer is through technology. Based on the survey responses, most of the financial wellness features deemed important lend themselves to a technology solution.
Our survey also found that 73 percent of the employers polled who offer a financial wellness program either have or would like to have a financial wellness app. Of the employers who don't currently offer a financial wellness program but would like to, roughly half agreed an app is an important feature.3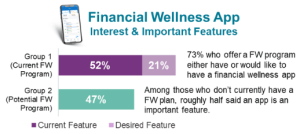 When it came to ranking the importance of app features, survey respondents desire a mix of user tools as well as the means to track progress. Providing financial wellness through technology provides one of the best means of measuring the program's success. Through the use of dashboards and online reporting, employers can clearly see how employees are engaging with the program—all while providing the important benefit of keeping employees' personal information private.2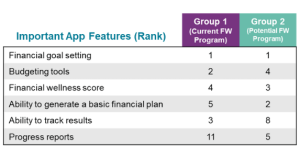 Financial Wellness Engagement Through Technology
Technology is ubiquitous in our lives today. One must make a concerted effort to avoid it. With so many aspects of our day-to-day existence being managed by technology, consumers have high expectations when it comes to technology and finances.
For example, younger generations have every expectation of being able to manage their financial lives digitally. In their annual Investor Insights Study, Fidelity found that two-thirds of survey respondents say they want working with their financial professional to be as easy as working with Amazon or Uber.4
Additionally, customization is a key component of the definition of technology for digital natives—those who grew up using technology. They view technology as something that adapts to their needs. To impact the financial wellness of employees who live their lives online, technology is an essential means of helping them develop lasting habits and new behaviors to improve their financial futures.
In addition to the ease of personalization afforded by financial technology solutions, the ability to incorporate gamification provides an added layer of engagement. Financial wellness apps that incorporate gamification are more likely to help employees create new habits and stick with them for the long term.
Embracing the Financial Wellness in the Workplace Opportunity
Our employer survey found that only 33 percent of companies currently offer a financial wellness program, but participation in those programs is high with an average of 58 percent. And because offering a financial wellness program is important to both employers at 91 percent and employees at 78 percent, we learned that 85 percent of those who don't offer financial wellness benefits said they would consider it in the future.3
There are many reasons employers should seriously consider offering workplace financial wellness programs to their employees. Not the least of which being that survey results found employees at companies who offer financial wellness benefits are happier, more productive, and stay longer.
As a retirement advisor with direct access to employers, it makes sense to provide the support employers need to ease the burden of poor employee financial health. Whether the company's financial wellness champion is the CEO or their director of human resources, you can help them offer solutions that will engage, educate, and improve the lives of their most important resource—their employees.
Learn More
For a more detailed look at the ways retirement advisors can support employers and employees, register for our upcoming webinar, How Retirement Advisors Can Lead in a Volatile Market.
DISCLAIMER: The eMoney Advisor Blog is meant as an educational and informative resource for financial professionals and individuals alike. It is not meant to be, and should not be taken as financial, legal, tax or other professional advice. Those seeking professional advice may do so by consulting with a professional advisor. eMoney Advisor will not be liable for any actions you may take based on the content of this blog.
Sources:
1 "It's Official: HR Professionals Are Finally Burnt out." Workvivo, 2021. January 12. https://www.workvivo.com/hr-breakdown/.
2 "TIAA 2022 Financial Wellness Survey." TIAA, 2022. January 1. https://www.tiaa.org/public/pdf/2022_financial_wellness_survey_final_results.pdf.
3 eMoney, Plan Sponsor Financial Wellness, January 2022, n=509
4 Fidelity 2020 Investor Insights Study
You may also be interested in...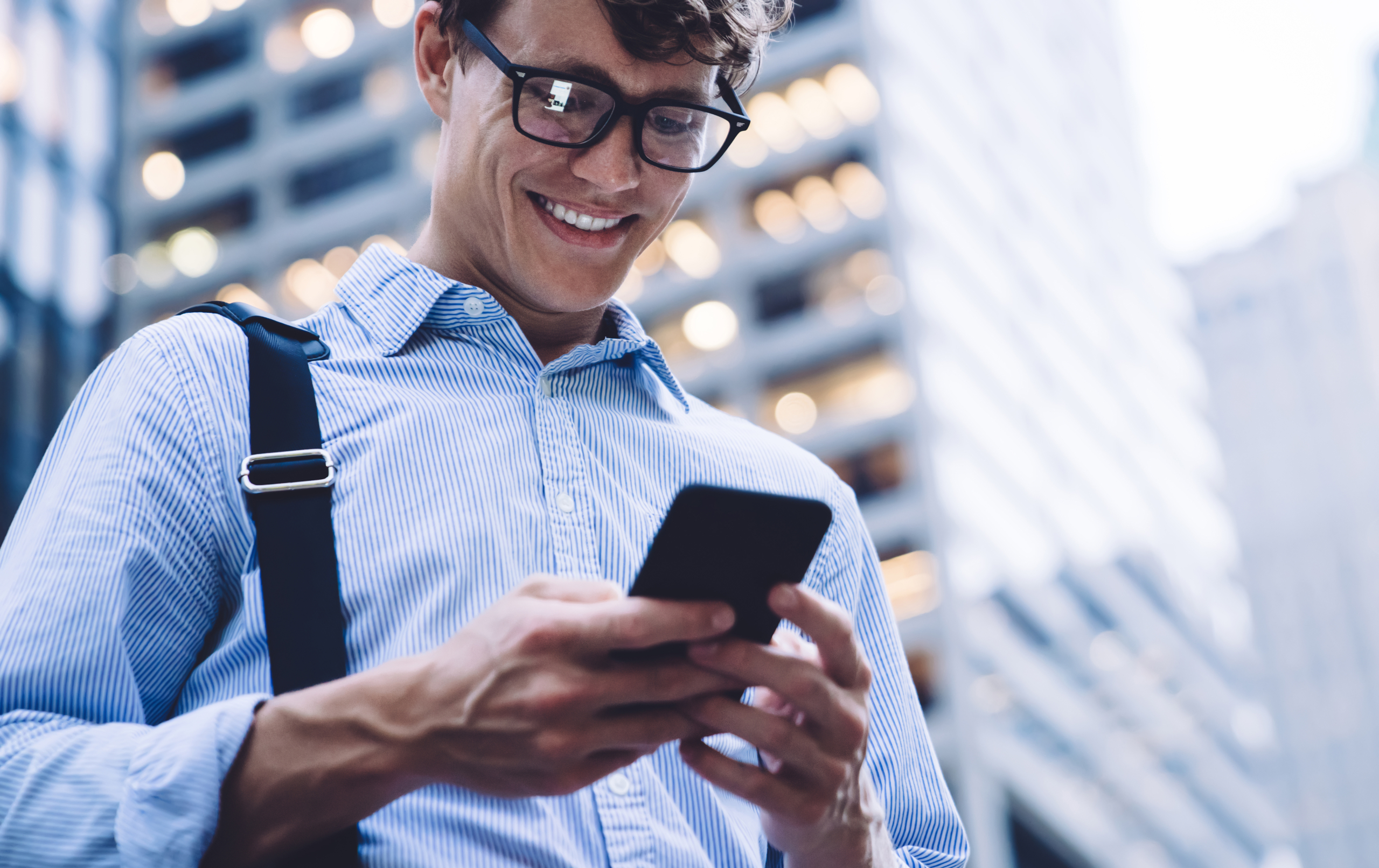 As a financial professional, would your clients be able to answer this question: What is your money for? Financial professionals… Read More
How Does Your Client Experience Stack Up? Take the Assessment!
Only 26% of financial planners say their clients are highly engaged and motivated. Take this self-assessment to see how your client experience compares!
TAKE THE ASSESSMENT