How Retirement Advisors Can Engage the Next Generation of Clients
• Chad Porche • November 5, 2020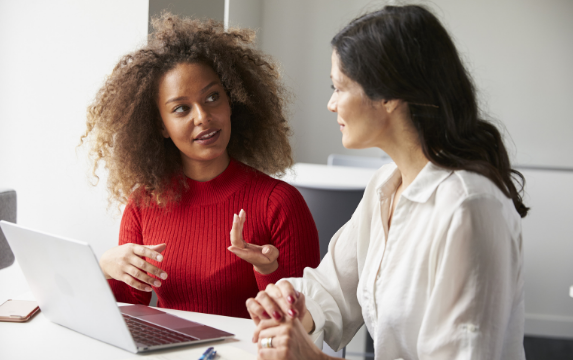 Updated on: September 18, 2023
It's a challenge for retirement advisors to engage the next generation of clients. The law prohibits you from reaching out directly to these plan participants. You need a high-touch, low effort way to stay connected with them, both to ensure their financial wellness and to engage a new generation of wealth management clients.
While many younger employees aren't yet ready to be wealth management clients, you can still connect with them to demonstrate your commitment to their financial wellness and make yourself available when they do need advice.
Serving this economically diverse audience is tough since most don't think about retirement until they're close to retiring. They're focused on other aspects of their financial lives, like meeting more immediate goals, and on overall financial wellness.
So, what should you consider when trying to reach them?
Changing Their Perceptions
Most people assume that retirement advisors care less about overall financial health and more about retirement. So, to them, it only makes sense to work with advisors when they're nearing retirement.
Showing a commitment to someone's financial wellness long before they're ready to retire shows you care about them as an individual and you care about all their finances, not just retirement. It builds a foundation of goodwill and trust.
Using tech tools like your website, financial wellness apps, and even social media to reach plan participants is a great way to generate leads. But it's also a way of helping all plan participants start making positive changes in their financial lives, no matter their starting point.
By introducing financial planning this way, you may make plan participants more intrigued with the process, and encouraged by their results. Then, when they're ready, they may want to work with you to stay on track with their financial goals.
Educating Plan Participants
To get them where they want to be financially, people need education on financial literacy, financial wellness, and healthy money management habits. When financial professionals can teach people these things, it creates a great environment for behavioral change.
Go beyond holding a webinar with a plan sponsor. Teaching financial wellness is a way for financial professionals to differentiate themselves in the market, and there multiple techniques for doing that. Provide a library of digital resources that makes the entire planning experience more accessible, less intimidating, and more valuable. Offer educational videos or spending challenges in specific categories to show target clients how they use their money and realize where every dollar goes.
Using this method, you're educating plan participants who might never think they can talk to a financial professional or are not sure where to start. You're showing them the value of planning, so they get engaged. This builds trust in your commitment to helping them make the money they have now work for them, so they believe they can depend on you to help them thrive later in life.
Offering Actionable and Trackable Financial Wellness
Financial anxiety is a genuine issue and we've learned money management is personal, and often overwhelming for most people. This knowledge gives financial professionals an opportunity to make the user experience with financial planning technology not only educational, but non-intimidating.
Implement ways for participants to track their current financial activity, like credit card use, to learn how much they're really spending in various areas. Show them what they could do if they tightened their budget in some areas.
By engaging with your tools, they're learning to change behaviors and take little steps over time that will help them reach the money goals that they've set.
Doing this shows your value to plan sponsors, too. You can use financial wellness apps, for example, to provide a basic plan that shows employers where plan participants are on or off track and how they feel about their finances.
Insight into the level of engagement with a plan, overall sentiment regarding finances, and actions taken to improve their employees' financial situation are all invaluable insights a financial professional can collect and then return to a plan sponsor to show their value.
It also gives a detailed starting point for engagement with potential clients when they raise their hand and say they have a question or they're ready to talk more about retirement.
A New Generation of Investors Requires a New Playbook for Engagement
Financial wellness technology that helps consumers with emergency savings, insurance, debt management, retirement, and budgeting for financial goals is great for retirement advisors to engage the next generation of investors.
Millennials, and even Gen Z after them, require a different playbook for engagement. To learn more about what it takes to serve these future investors, read our ebook "Planning for the Investor of the Future: Generational Shifts Require a Holistic Approach."
DISCLAIMER: The eMoney Advisor Blog is meant as an educational and informative resource for financial professionals and individuals alike. It is not meant to be, and should not be taken as financial, legal, tax or other professional advice. Those seeking professional advice may do so by consulting with a professional advisor. eMoney Advisor will not be liable for any actions you may take based on the content of this blog.
You may also be interested in...
As a financial professional, you are likely aware of what the media is calling the Great Wealth Transfer—where $84 trillion… Read More
eBook: From Portfolio Manager to Planner
Download our latest eBook and learn how to use the data you already have to evolve your business and client relationships.
Download Now