Moving Clients to Action with Motivational Interviewing
• Sasha Grabenstetter • August 10, 2022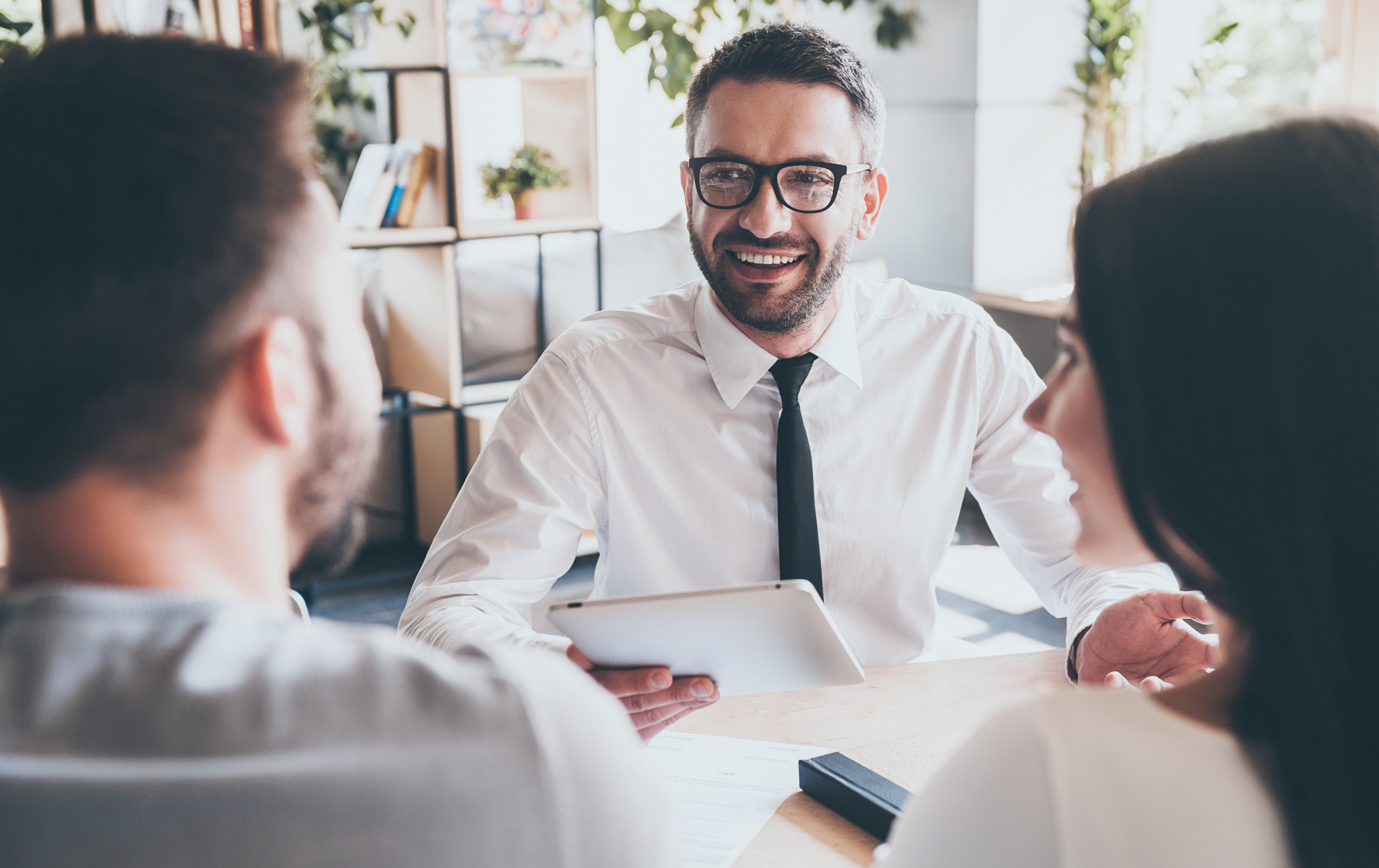 Gathering client data, creating a holistic plan, making recommendations—you think you've done everything necessary to set your clients up for success. But how do you motivate them to take action towards their own financial goals?
An understanding of the motivations behind human financial behavior is a great place to start. According to our research,1 a majority of clients struggle with a mismatch between their goals and their behaviors. And 45 percent of clients—almost half—struggle with a lack of motivation.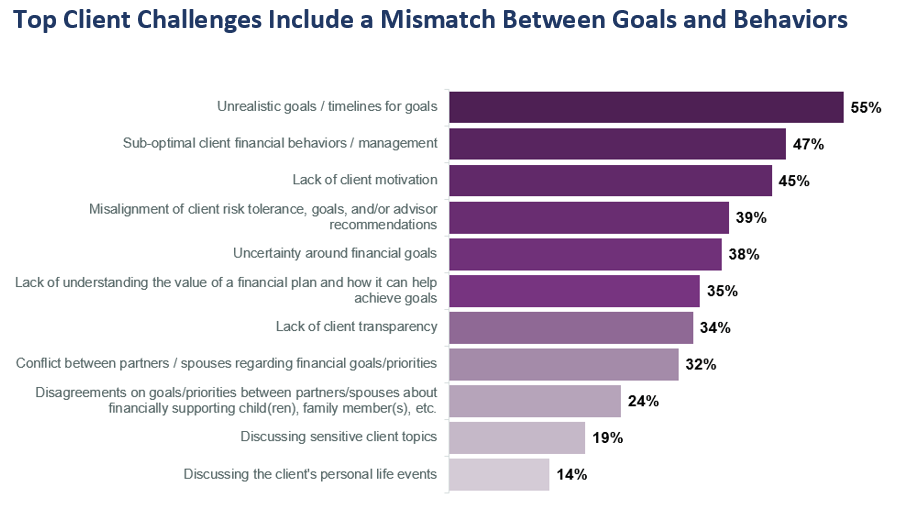 To help motivate your clients to take action, you can use techniques like motivational interviewing to address your clients' goals, understand the reasons behind their financial behaviors and habits, and enable them to make impactful changes.
Building Trust in the Relationship
Creating trust in the client relationship is the first step to getting to the core of client issues, motivations, and expectations. To use motivational interviewing, clients first have to trust you.
Financial professionals should understand that clients are experts about their own lives and have the resources within themselves to create change. Offering an open, non-judgmental environment helps your clients feel comfortable sharing which creates a trusting partnership that opens the door for collaboration.
Your clients may agree to the goals you have set together, but their actions may not align. Unaddressed spending patterns and unhelpful financial behaviors can easily get in the way of their progress and the success of their plan.
Getting to the root of these problems is critical to enabling change, but it can be difficult to identify and talk about sensitive money topics.
Motivational Interviewing to Understand Client Financial Behaviors
Once clients feel comfortable collaborating with you, simple motivational interviewing techniques can get them to start taking stock of their financial situation. Motivational interviewing includes guiding your client in conversation and empowering them to come to their own conclusions and meaning.
It involves active listening, treating the client like an equal partner, and staying away from offering unsolicited advice. Motivational interviewing is especially useful to help clients understand their own situation, behaviors, and options when they feel ambivalent about change, a lack of confidence or understanding to act on change, or low motivation to take action.2
These techniques can create an open dialogue and help you dig deeper into what's driving your clients' spending habits and behaviors. This requires asking the right questions and listening to what the client is really saying.
Some common motivational interviewing techniques include:
Ask open-ended questions to draw out and explore your client's experiences and perspectives. Provide space for the client to explore the answer themselves.
Listen carefully and communicate to your client that you understand their position. Ask clarifying questions to fully understand what the client is saying, then repeat and summarize their thoughts back to them so they know you understand them.
Affirm your client's strengths and successes, and support and empathize with them as they open up and tell their story. This will give the client confidence and agency as they start to make changes.
Guiding the Client to Set Realistic Goals
Helping your clients understand the reasons behind their own financial behaviors will help them come to their own conclusions and solutions, empowering them to make changes and act on these solutions.
As a financial advisor, you can guide your clients to realign their ways of thinking, and collaborate and negotiate on new, more realistic financial goals.
Ask your client, "Why?" Ask your client to explore the reasons behind their financial behaviors so they fully understand their situation and what actually motivates them. They could uncover unrealized goals or expectations, or underlying feelings driving their decisions.
Guide your client to their own solutions. Once your client has realized their own motivations, you can guide them to explore their own conclusions and what solutions they think are truly realistic and achievable for their situation. This requires directing the conversation in a non-judgmental way and keeping the client focused on what they've learned.
Establish a collaborative working relationship. After your client has considered their own possible solutions, collaborate and negotiate with them to turn those solutions into realistic goals that work for them.
Create a plan. It's your job to help the client figure out the "how" of change. Use client insights and your expertise to develop a plan that's actionable for the client and demonstrates your understanding of—and commitment to—their situation and values.
Engaging and Motivating Clients to Action
Keeping your clients engaged along their journey is critically important for the success of the plan. But keep in mind every client has their own reasons for wanting to reach their financial goals.
Use what you learn about your clients' financial behaviors and motivations to continue to guide them to their own conclusions, help them understand your recommendations, and stay engaged throughout the process.
Financial psychology offers a number of lessons for planners to connect with clients on a deeper level and improve outcomes. To continue learning on this topic, check out our eBook Tapping into the Emotional Side of Planning.
Sources:
1. eMoney Leading with Planning Research, May 2022, Advisors n=360
2. Miller, W.R. & Rollnick, S. (2013) Motivational Interviewing: Helping people to change (3rd Edition). Guilford Press.
DISCLAIMER: The eMoney Advisor Blog is meant as an educational and informative resource for financial professionals and individuals alike. It is not meant to be, and should not be taken as financial, legal, tax or other professional advice. Those seeking professional advice may do so by consulting with a professional advisor. eMoney Advisor will not be liable for any actions you may take based on the content of this blog.
You may also be interested in...
Amid the Great Wealth Transfer, with $84 trillion set to be passed between generations in the next two decades1, there's… Read More
How Does Your Client Experience Stack Up? Take the Assessment!
Only 26% of financial planners say their clients are highly engaged and motivated. Take this self-assessment to see how your client experience compares!
TAKE THE ASSESSMENT