The Key to Deeper Relationships: Ask the Right Questions to Best Leverage Financial Planning Technology
• Brett Tharp • February 6, 2020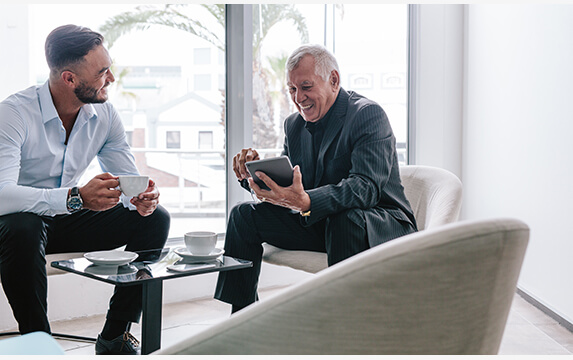 Updated on: July 30, 2021
Getting to know clients on both a financial and individual level is essential for advisors who want to provide comprehensive, personalized planning services.
Asking clients the right questions is an important first step in establishing a productive relationship, especially for getting to the core of the practical and personal details that may impact a financial plan. But there's more an advisor can do to get to know their clients, demonstrate value, and prove that they're there to serve the client's best interest.
Financial planning technology can help advisors deepen their client relationships. This kind of technology dictates what you can do with the information you initially obtain from clients. It can also inform what questions you should ask in the first place. The human and technological aspects of financial advice are deeply intertwined and can be used in tandem for more personalized financial planning.
32 Questions Financial Advisors Should Ask Their Clients to Kick Off the Relationship
Sitting down face-to-face with a client is a great opportunity to start uncovering their personal and financial goals and circumstances. There are any number of questions you can ask to get to know your clients better, and every advisor may have their own questions based on the types of relationships they build. But the questions below can serve as an effective guide to get the most crucial information needed to provide comprehensive planning:
Who or what are the most important to you in your life?
What are some of your proudest accomplishments so far?
What are your greatest goals in life?
Tell me more about your goals… short-term, mid-term, and long-term goals.
What do you enjoy doing? What are you most passionate about?
What keeps you up at night?
How do you feel about your current financial situation?
What's important to you about your money?
How do you make money?
What is your experience with money?
How did you get where you are today?
What plans do you have for your money?What would you like to accomplish?
What financial concerns do you have?
Do you feel like you are on track for where you want to be financially?
How do you feel about your spending habits? Do you maintain a budget?
How do you feel about your investments and assets?
How do you define "risk"?
Is debt a concern?
Tell me about your family and important people in your life.
Who are you financially responsible for?
What are your family's goals, if they are different from your individual goals?
What kind of legacy do you want to leave after you have taken care of your family?
Tell me about your philanthropic intentions.
What do you want your retirement to look like?
What does financial planning mean to you?
What traits are you looking for in your financial planner?
Do you have experience working with other financial planners? If so, please tell me about that experience.
Did your financial planner make him or herself available to you via technology and other communication methods?
What are your expectations (of me, this process, this experience, etc)?
What is the most important thing I can do for you?
Why are you here? Why is that important to you?
What is really important to you that we didn't discuss today?
Advisors who ask some or all of the questions above are best positioning themselves to offer impactful advice and setting their clients up for success.
How Does Financial Planning Technology Help Advisors Deepen Relationships?
The information you gather by asking the above questions powers your financial planning technology. Once you've asked the essential questions, robust planning software can help you dive deeper and understand your clients better through the entire course of the relationship.
Understand the Whole Financial Picture
Financial planning technology solutions that feature powerful aggregation engines help bring in data from all of a client's financial institutions. Whether it's through integrations or APIs, this data is automatically updated, offering insight into the client's whole financial picture. Knowing everything that may impact a client's finances is crucial for providing holistic advice.
To help advisors further understand clients' financial circumstances, some platforms allow for other professionals to be looped in, such as tax planners or other centers of influence, so advisors can gain visibility into financial decisions made outside the scope of their relationship. Once again, this allows an advisor to see all of a client's finances—a foundational part of offering comprehensive advice in the client's best interest.
Spark Productive Conversations
Technology can facilitate better communication on a practical level. Things like screen sharing make it easier to connect, regardless of geographical distance. Other features, like a safe and secure place to store sensitive documents, can assure clients that their personal and financial information is in good hands while encouraging them to be more open.
Some platforms come with access to marketing communications that educate clients and challenge them to consider different aspects of their finances, such as saving for college or the unique financial circumstances that women face. Communicating in this way can get clients asking more intelligent questions while helping advisors steer the conversation in a productive manner.
Commit to the Plan
Financial planning software that features an advanced client portal can allow clients to interact with their financial plan. They can see their progress towards their most important goals and view the financial impact of their life decisions in real time. These portals also allow advisors to assign tasks to clients so they can see exactly what is required of them for their plan to succeed.
Client portal technology increases engagement and commitment to the financial plan. It gives clients a greater role in their plans, at the same time allowing them to experience the value of your financial advice. This can strengthen their trust in your capabilities and advice, helping build stronger relationships with better financial outcomes.
Technology Makes Planning More Personal
Asking clients the right questions at the start of the engagement is a critical first step, but there's much more advisors can do to deepen their relationships.
Financial planning technology empowers advisors to deliver more holistic, impactful advice. When planning technology is used in a way that helps advisors do more with the information they have, the result is a more personalized financial plan for their clients.
Clients that receive highly personalized financial planning services inevitably receive a better overall experience, which can greatly enhance wallet share and client retention. In fact, the client experience can be a key driver of business growth for advisory firms. Our recent whitepaper, Exceptional Client Experiences Drive Growth, details exactly how advisors are improving their clients' experiences to find new avenues of business growth.
You may also be interested in...
The legacy thought that financial planning is reserved for the high-end of the wealth spectrum is in the rear-view mirror… Read More
2021 eMoney Summit: Planning with Purpose
Join us October 25-27 for a virtual conference as we explore how financial professionals who plan with purpose can deliver expertise and insight entirely unique to them.
REGISTER NOW