Using Financial Psychology for LGBTQ+ Inclusivity in Your Practice
• Megan McCoy • June 30, 2022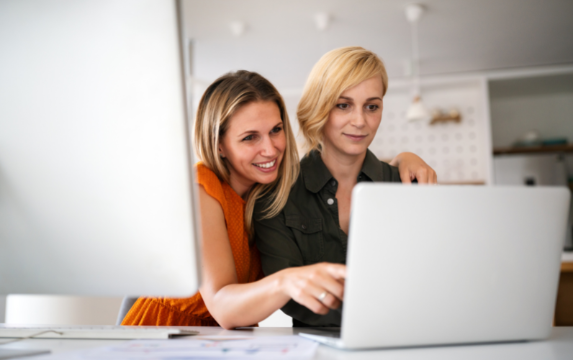 Thanks to the legalization of same-sex marriage in 2015 and other more recent anti-discrimination protections, there are many ways that the legal and financial lives of gay and lesbian Americans are similar to their straight peers. And although LGBTQ+ Americans—particularly those who are transgender and non-binary—still face many unique hurdles, financial professionals can help eliminate some of their financial worries in life by creating an atmosphere of inclusion that welcomes clients with diverse backgrounds.
Many of the financial concerns of LGBTQ+ clients are the same as the broader population—saving enough for retirement, sending children to college, and taking care of loved ones. But there are additional challenges that have an impact on their financial success such as housing and wage discrimination and lack of career advancement. This legacy of discrimination and prejudice has created a need for empathetic and inclusive experiences with financial professionals. This is where the psychology of financial planning takes center stage.
The psychology of financial planning understands that one of your drivers in choosing financial planning as a profession was to help people. By increasing your focus on fostering communication and listening skills you will be able to provide a more empathetic and inclusive experience.
Often this starts with understanding not only your clients' present-day relationship to money but their history with money as well. In doing so you can personalize the service you provide to increase their chances of success.
We also know there is danger in making assumptions about people, their lived experiences, and what they want out of life. Everyone's money story is different and those differences have far-reaching implications on the ability to create a successful financial plan.
Understanding the Negative Influences on LGBTQ+ Client Success
The LGBTQ+ community has a lot of unique financial planning concerns that a financial professional can help with, but only if the client has the level of trust and comfort necessary to share those concerns.
Lack of trust can result in missed opportunities including discussions about wills, prenuptial agreements, cohabitation agreements, and power of attorney documents. For example, even though marriage equality is now law, there are still some specific estate planning concerns for the LGBTQ+ community.1
In fact, members of the LGBTQ+ community often reported that they have experienced financial challenges because of their sexual orientation or gender identity. Here are some specific examples that research tells us may have an impact on LGBTQ+ clients.
Pay gap – LGBTQ+ individuals generally report earning less than their heterosexual counterparts. There is a gender income gap among both LGBTQ+ and the general population; however, there is also a gap linked to sexual orientation. On average, heterosexual women tend to earn less than heterosexual men, bisexual women tend to earn less than bisexual men, and lesbian women tend to earn less than gay men. Additionally, gay men tend to earn less than heterosexual and bisexual men and lesbian women tend to earn less than heterosexual women. The reasons for this are complicated, but employment instability due to discrimination is thought to be a key factor.2
Spending-saving gap – A study by Experian found that 34 percent of respondents who identify as LGBTQ+ have spending habits they would like to improve or change as compared to 28 percent of the general population. And 44 percent say they struggle to maintain savings as compared to 38 percent of the general population.2 Reasons provided for overspending include the desire to project a successful lifestyle as well as spending to make up for being made to feel inadequate by others. This is especially true for older members of the community who remember when society was less open to different lifestyles.4
Higher student loan debt – Nearly 40 percent of LGBTQ+ adults ages 18 to 40 have student debt comprised of federal student loans, private student loans from a bank or other lending institution, or from credit cards or other loans.5 And a survey by Student Loan Hero found that 60 percent of these borrowers say they regret taking out student loans.6 The survey also found that some of this student debt may be attributable to the lack of financial help from parents that many of these students experienced. Only 39 percent of the respondents reported feeling "entirely accepted" by their families and 33 percent reported being kicked out of their home at some point.6 Couple that with the workplace discrimination and lower earning power already mentioned and these student loan debts become a major stressor.
Higher cost of living – When you also consider the higher healthcare costs associated with being transgender7, the legal and medical fees often encountered by those who want to be parents8, or the higher cost of living in more accepting metropolitan areas9, financial professionals must be aware that being LGBTQ+ can be very expensive.
Demonstrating a Commitment to Inclusivity
Beyond an awareness of the financial challenges and hurdles of the LGBTQ+ community, financial professionals can take some concrete steps to make their practices more inclusive. Clients want to see themselves as part of the practice they work with. Ensure the public face of your practice reflects this.
Begin by looking at the photography and language you are using on your website. Are you depicting the diverse clientele you want to serve? Are you offering information about yourself and your staff that tells LGBTQ+ clients that they will feel comfortable working with you?
There are several examples of best practices for building this type of open rapport. Financial professionals can identify that they are allies by introducing themselves using their own pronouns thus inviting clients to do the same. These pronouns should be included on email signatures, website bios, and other places as appropriate. This simple change normalizes the process of sharing pronouns.
When it comes to onboarding new clients, there are also steps financial professionals can take to demonstrate an open atmosphere. Include a place for clients to name their pronouns on paperwork as well as provide a means to identify partners that may not be gender conforming. For example, simply using "client 1″ and "client 2″ demonstrates a level of inclusivity that is important to many people, not just the LGBTQ+ population.
While more and more practices are becoming virtual, there are still many people who prefer to meet face to face. Consider your physical office setup when making adjustments for inclusivity. For example, ensure you have a gender-neutral restroom for clients. If one is not close by, let them know where the closest gender-neutral restroom is, or affirm that they are welcome to use any restroom of their choosing.
Working Toward Cultural Competence
I hope the background and ideas presented here will help financial professionals add to their understanding of the unique nature of all client interactions. Try as we might, we will never be able to always say or do the right things. What I encourage is to approach LGBTQ+ clients with humility and an attitude of building cultural competence.
Cultural competence is loosely defined as the ability to understand, appreciate, and interact with people from cultures or belief systems different from your own.10 Have the humility to acknowledge that you are going to make mistakes. No amount of study will give you a mastery of another group that's different from you. So, instead of thinking about it that way, work on your cultural competence.
I recently participated in a webinar about prenuptial agreements. Just mentioning these important documents evokes so many feelings with the outdated notion being that one partner is trying to protect their assets from the other in case of divorce.
What I want to emphasize is that this type of agreement is all about people doing what they can to protect their loved ones. And I think that's an important notion for financial planners to keep in mind, especially when working with LGBTQ+ clients.
Prepare a financial plan with thorough supporting documentation that provides clear-cut instructions on how your clients want their finances to be handled in the face of any unknowns life might throw at them.
DISCLAIMER: The eMoney Advisor Blog is meant as an educational and informative resource for financial professionals and individuals alike. It is not meant to be, and should not be taken as financial, legal, tax or other professional advice. Those seeking professional advice may do so by consulting with a professional advisor. eMoney Advisor will not be liable for any actions you may take based on the content of this blog.
The views and opinions expressed by this blog post guest are solely those of the guest and do not necessarily reflect the opinions of eMoney Advisor, LLC. eMoney Advisor is not responsible for the content, views or opinions presented by our guest, nor may eMoney Advisor be held liable for any actions taken by you based on the content, views or opinions of the guest.
Sources:
1 "Complete Guide to Estate Planning for LGBTQIA+ Couples." Trust & Will, n.d. https://trustandwill.com/learn/lgbt-estate-planning.
2 "The LGBT Financial Experience 2016-2017." Prudential Financial, n.d. http://corporate.prudential.com/media/managed/PrudentialLGBT2016-2017.pdf.
3 Akin, Jim. "LGBTQ Money Survey: Attitudes, Challenges, and Opportunities." Experian, 2018. June 18. https://www.experian.com/blogs/ask-experian/lgbtq-money-survey-attitudes-challenges-and-opportunities/.
4 Kiesnoski, Kenneth. "Online Efforts Encourage LGBT Americans to Mind Their Financial P's & Q's." CNBC, 2020. January 12. https://www.cnbc.com/2020/01/10/online-efforts-encourage-lgbt-americans-to-mind-financial-wellness.html.
5 Conron, Kerith J, Winston Luhur, Kathryn K O'Neill, and Mathew Santiago. "Federal Student Loan Debt Among LGBTQ People." The Williams Institute, 2021. July 1. https://williamsinstitute.law.ucla.edu/publications/lgbtq-student-loan-debt/.
6 Marquit, Miranda. "Survey: 60% of LGBTQ Student Borrowers Regret Taking Out Student Loans." Student Loan Hero, 2018. December 3. https://studentloanhero.com/featured/survey-lgbtq-student-borrowers-regret-loans/.
7 Jones, Benji. "The Staggering Costs of Being Transgender in the US, Where Even Patients with Health Insurance Can Face Six-Figure Bills." Business Insider, 2019. July 10. https://www.businessinsider.com/transgender-medical-care-surgery-expensive-2019-6.
8 Compton, Julie. "For Gay Parents, First Comes the Baby — Then Comes the Debt." NBCNews, 2018. February 22. https://www.nbcnews.com/feature/nbc-out/gay-couples-having-kids-it-s-not-easy-or-hard-n850086.
9 Cancian, Dan. "Why Are House Prices Higher in LGBT Neighborhoods? Buyers in Gay Areas Face Paying up to Four Times the Average Price." Newsweek, 2019. May 23. https://www.newsweek.com/house-prices-lgbt-neighborhoods-four-times-average-price-1433622.
10 DeAngelis, Tori. "In Search of Cultural Competence." American Psychological Association, 2015. March 1. https://www.apa.org/monitor/2015/03/cultural-competence.
You may also be interested in...
Amid the Great Wealth Transfer, with $84 trillion set to be passed between generations in the next two decades1, there's… Read More
How Does Your Client Experience Stack Up? Take the Assessment!
Only 26% of financial planners say their clients are highly engaged and motivated. Take this self-assessment to see how your client experience compares!
TAKE THE ASSESSMENT