4 Marketing Tactics Used by Fast-growing Financial Planning Firms
• Valerie Rivera • April 22, 2021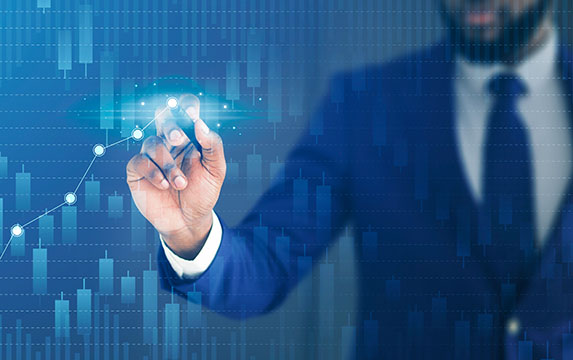 According to a digital marketing study by Fidelity, financial professionals attribute 20 percent of their leads to marketing activities.1
But it's not always easy to stay on top of marketing your firm. In the same study, 45 percent of financial professionals surveyed cited lack of time as a barrier to marketing optimization efforts. This makes investing your time in the best, most effective marketing tactics incredibly important.
Adopting the best practices of firms that have proven their marketing success can help you cut straight to the most impactful tactics. Research shows that fast-growing firms use the following tactics to grow their businesses.
1. Engage with Email Campaigns
Email is a powerful marketing tool for many reasons. Not only is it relatively affordable, but you can also target specific audiences with content tailored to their stage in the buyer's journey. A well-designed email campaign can even keep current clients engaged and potentially deepen wallet share—especially if your communications are highly personalized.
The Fidelity digital marketing study found that 67 percent of respondents utilized email campaigns, with 60 percent reporting it as one of their top three most effective marketing tactics.
2. Host Events and Meetings
Events have long been used to generate leads and referrals, as well as keep current clients engaged. Due to the pandemic, many advisors have taken event marketing digital with webinars. This digital shift can be difficult to make, but it also presents the opportunity to reach more people, more easily.
Sixty-three percent of fast-growing firms utilized webinars and events as part of their marketing strategy, with 53 percent reporting it among their top three most effective marketing tactics.1
This isn't surprising. According to the eMoney Consumer Marketing Survey, in-person communication is still the preferred method of communication for consumers, with digital meetings coming in second.2
To get the most out of a meeting—whether in-person or virtual—make them educational. Tailor the experience and teach each of your prospects and clients something that only you can. This proves your value while giving them an experience that they won't forget.
3. Stay Active on Social
Being active on social media can boost your brand and overall visibility. In fact, the previously mentioned Fidelity study found that fast-growing firms updated their social media accounts at least once a week.
Like any other effective marketing tactic, having an active social media account isn't only good for attracting new clients. Continually sharing helpful content with your followers and highlighting your unique expertise can help strengthen (and possibly grow) relationships with existing clients.
Aside from being the perfect channel for pushing content and building your brand, it can also be a useful method for direct outreach—especially for younger demographics. Forty-one percent of consumers age 25-34 have used a financial advisor that reached out to them over social media. For those age 18-24, that number jumps to 60 percent.2
This difference in how demographics respond to certain tactics highlights the importance of having a generational marketing strategy.
4. Optimize Your Website
Your website is your digital storefront. For many prospects, it's the beginning of the buyer's journey. Ninety-eight percent of consumers stated that the advisor's website is somewhat or very important to them, with one-third saying that it's extremely important.2
This means that building an engaging website is key. One of the best ways to become more discoverable online is by investing in search engine optimization (SEO). Performing keyword research and optimizing your web content for those keywords can help you reach people more easily.
In fact, the eMoney Consumer Marketing Survey conducted by eMoney found that 42 percent of prospects begin their advisor research process using search engines.2 Surprisingly, this number is higher than those that would start their search by asking friends or family (31.9 percent).2
Once a prospect finds your website, ensure that there are many opportunities for conversion. This could include contact forms, newsletter sign-up forms, gated content, and more.
Best Practices and Budget Play into Success
Implementing these marketing tactics will help grow your business, but other steps can help you get the most out of your efforts.
The Fidelity study found that firms following marketing best practices have tactics that perform better overall. The study also showed that fast-growing firms invested an average of 9 percent of their revenue into marketing, often dedicating the dollars toward resources like marketing technologies.
How much of a difference do these factors make? The study revealed that there was a gap in tactic effectiveness between fast-growing firms and other firms, with fast-growing firms performing between 6-10 percent better depending on the tactic.
Still getting acquainted with marketing best practices or don't have the budget to dedicate to marketing? That's okay. These marketing efforts will still help grow your firm. But, if you want to improve the ROI of these growth-fueling tactics, focus on implementing marketing best practices and expanding your budget to support your efforts.
Learn more about marketing tactics that can grow your firm. Watch the Building a Strong Digital Brand webinar to hear experts at Fidelity Investments and eMoney Advisor make recommendations to help you define, create, and promote a unique brand that lays the groundwork for successful digital marketing strategies.
Sources:
1. The Case for Digital Marketing, Fidelity, October 2020
2. 2020 eMoney Consumer Marketing Survey, September 2020, n=2,000
DISCLAIMER: The eMoney Advisor Blog is meant as an educational and informative resource for financial professionals and individuals alike. It is not meant to be, and should not be taken as financial, legal, tax or other professional advice. Those seeking professional advice may do so by consulting with a professional advisor. eMoney Advisor will not be liable for any actions you may take based on the content of this blog.
You may also be interested in...
New client acquisition is an essential task for any financial professional looking to grow their business. But financial advisors often… Read More
eBook: From Portfolio Manager to Planner
Download our latest eBook and learn how to use the data you already have to evolve your business and client relationships.
Download Now