Client Education as a Marketing Tool for Financial Professionals
• Valerie Rivera • August 11, 2021
When thinking about the purpose of marketing strategies for financial professionals, client acquisition might be the first thing that comes to mind. But retention and providing a worthwhile client experience overall is also key to successful business development efforts.
Enriching the client experience is a marketing priority for many firms. According to the eMoney ROI of Digital Marketing study, 53 percent of financial professionals think that deepening current client relationships and increasing client satisfaction were their most important digital marketing metrics.1
One of the best ways for them to deepen client relationships and prove their value is through client education.
Defining Client Education
Client education is any piece of content—whether it's a blog post, email newsletter, podcast, or video—that's intended to educate rather than self-promote.
When it comes to your firm's content marketing efforts, client education stands apart as one of the best marketing strategies for financial professionals.
From the client's point of view, the ultimate reason to hire a financial planner is expertise. You can help a client reach their financial goals better than anyone else. Sharing that expertise through educational content enhances the value you already deliver, which is deeply important to growing your business and keeping clients happy.
The Key Benefits of Client Education
Sets expectations. Some clients, especially if they're new to working with a financial professional or financial planning, may not know exactly what to expect from the relationship. Educating your client from the outset helps them understand what you realistically can and can't do for them. It can also help explain your approach to financial planning and investment management.
Encourages engagement with the plan. A fruitful planning relationship must be a partnership between the financial professional and the client. Giving your clients educational materials can deepen that relationship by keeping their attention focused on the next steps. This ultimately helps the client become more deeply invested in their plan—and more likely to achieve their goals.
Reinforces your brand. Having a clear brand that communicates your value proposition is essential in today's competitive financial advice industry. By providing educational content on a consistent basis, you create more opportunities to articulate the unique value that you bring.
Creates a holistic planning experience. Today, clients expect more personalized plans and interactions. Taking the time to continually educate your clients is one aspect of providing a holistic experience that translates to more successful planning relationships. Fidelity research found that holistic financial professionals had 47 percent higher AUM growth and 67 percent higher growth in the number of clients compared to other advisors.2
Justifies your fees. When you consistently educate your client outside of your meetings, you provide more value. This sets you apart from other advisors and shows an inherent desire to meet your client's needs. Ultimately, this will help justify your fees when it comes time for renewal.
Incorporating Client Education into Your Marketing Strategy
Be thoughtful about the content you provide. You're fighting an attention war. The average person is projected to spend 495 minutes a day with some form of media in 2021—in other words, 8.25 hours daily consuming content and advertising.3 Creating or curating interesting content that furthers your clients' goals is one of the best ways to cut through the noise. This may be one reason why educational content rises to the top in terms of effectiveness. According to the eMoney survey, 48 percent of financial professionals identify custom content as the most effective marketing method for acquisition and retention, followed by webinars and events at 37 percent.1
Keep the lines of communication open. Proactively provide educational content on multiple channels. Reaching out through email, social media, and other channels with helpful information gives your clients more reasons to contact you. It may even help deepen wallet share. According to a digital marketing study by Fidelity, advisors who followed digital marketing best practices—like content marketing and email marketing—were far more likely to have grown their AUM in the past year.4
Align your marketing and planning efforts. When it comes to selecting educational content that will keep a current client engaged, look to the client's plan for inspiration. Pinpoint areas where they could learn more to reach their key goals, identify knowledge gaps, and carefully consider what will help them become an active participant in their financial journey. This personalized approach will keep them in lockstep with their plan.
Leverage education for acquisition, too. Client education can also benefit acquisition efforts. Again, showcasing your expertise—and your willingness to share it—is appealing. Just like when you're creating a financial plan, any content intended to educate prospects should address their key challenges. Consider what content would be most helpful for your target audience or specific niche. Creating and referencing buyer personas can help you.
Simplify your marketing workflows. If you're worried you won't have the time to implement this marketing strategy, then you're not alone. When asked, almost half of the financial professionals surveyed identified lack of time as a barrier to their marketing optimization efforts.4 Client education may be another item to add to your long to-do list, but using marketing automation tools can save you time by streamlining marketing processes and allowing them to scale as your business grows.
Want to learn more about how financial professionals are marketing their firms and measuring success? Register for the upcoming webinar "Setting Marketing Goals for the Win."
Sources
1. 2021 eMoney ROI of Digital Marketing Survey, May 2021, n=188.
2. "Three Principles of Holistic Wealth Planning: An Approach to Financial Planning to Help Advisors Advance Their Practice." Fidelity Investments, 2020. https://clearingcustody.fidelity.com/app/proxy/content?literatureURL=/9899391.PDF.
3. Watson, Amy. "Daily Time Spent with Media Worldwide from 2011 to 2021." Statista, 2020. December 18. https://www.statista.com/statistics/256300/time-spent-with-media-worldwide/.
4. The Case for Digital Marketing, Fidelity, October 2020.
DISCLAIMER: The eMoney Advisor Blog is meant as an educational and informative resource for financial professionals and individuals alike. It is not meant to be, and should not be taken as financial, legal, tax or other professional advice. Those seeking professional advice may do so by consulting with a professional advisor. eMoney Advisor will not be liable for any actions you may take based on the content of this blog.
You may also be interested in...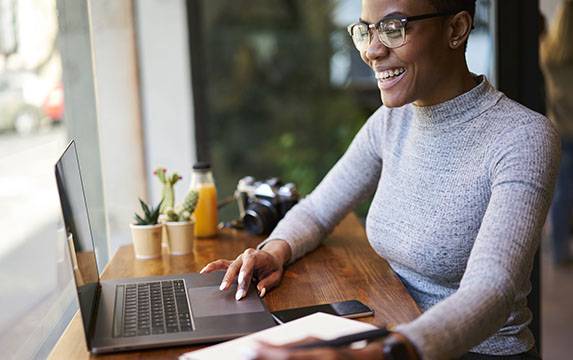 Content marketing can play an essential role in any modern financial professional's marketing strategy. According to the eMoney consumer marketing… Read More
CE Webinar - Making Money More Human: The Value of Emotional Intelligence in Financial Planning (1 CFP® CE Credit)
Join eMoney Thursday, October 7 at 2:00 p.m. ET to explore the power of emotional intelligence and the CFP Board's recent change to its principal knowledge topics.
REGISTER NOW