How Technology Elevates Financial Wellness Programs
• Mac Gardner • February 23, 2021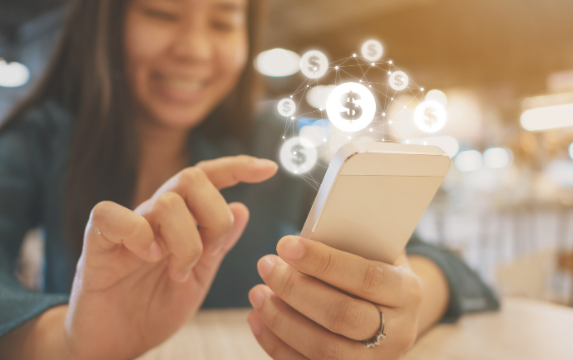 Updated on: August 25, 2021
For years people have used technology to perform basic money management tasks—like check account balances and pay bills. Introducing financial wellness applications that incorporate artificial intelligence (AI) and big data is a logical next step in helping people improve their financial management skills.
With stress over finances having such a big impact on overall health, it makes sense to leverage technology to help people improve their financial wellness.
The Convenience of Any Time, Anywhere Access
Technology gives people the option to access financial wellness platforms on their own timeframe. Not only that, they can do it when they have an immediate need. A quick reference using a mobile device may make the difference between a good spending decision and a poor one.
Additionally, with many workplaces closed, those employers who do offer financial wellness programs have had to put any in-person interaction on hold during the pandemic. Employers who have a technology-driven solution in place know they are still able to provide their employees with support for their financial decisions from the safety of their own homes.
Moving Beyond One Size Fits All Advice
Not everyone has the expertise to create their own customized, goals-based financial plan without professional assistance. Technology makes it possible for anyone with access to a digital financial wellness platform to create a base plan that allows them to consider the individual financial variables that matter to them. The result is a personalized action plan that can include targets for saving, spending, investing, and debt and risk management.
When changes occur—whether personal or market-driven—the plan adjusts automatically enabling users to see a broad view of their circumstances and the progress they are making towards their financial goals. The more they use the platform, the better AI helps to anticipate next steps and offers advice to provide a broad view of their future.1
Flexible Content for Users at Various Financial Literacy Levels
Using technology to deliver a financial wellness platform gives the provider flexibility when it comes to tools and content. Users from all over the financial literacy spectrum can be served by the same platform.
There's no judgment or preconceived notion when using a digital planning tool. People who are just starting out on their financial wellness journey may hesitate to create a plan because they think it requires a certain level of wealth to get started. A digital tool gives them the confidence to take their first steps knowing that the application is there to answer their questions.
Technology also provides the flexibility to add value for those who are more experienced with financial matters. They can tap into resources that are specific to their more advanced needs—like investments or estate planning.
Security Is Crucial
An important factor to consider when using technology to enhance financial wellness programs is security. Cybersecurity has a multi-faceted impact on the value of a digital financial wellness application.
With the integrity of their personal information on the line, users will need complete trust that the cybersecurity of any platform is top-notch. Financial wellness platforms—like any financial technology—need to proactively address client concerns about security and privacy to establish a foundation of goodwill and trust to aid in their adoption.
Once assured that the desired level of security is in place, it also reassures users that they won't be judged when sharing personal financial information. Unlike analog wellness tools, such as presentations in front of a large group, an online option gives the user the privacy to share honest details they know cannot be accessed by anyone else except an associated financial professional.
Incorporating the Human Touch
The true measure of any financial wellness tool is the success of its users in developing a healthy relationship with money. But AI that gets progressively smarter and more effective for the individual user can only go so far in helping them reach their financial goals. If the tool leads to the introduction of a financial professional, that relationship complements the work outside the confines of the digital space.1
Further, access to professional advice is something employees feel is missing from employer-provided financial wellness programs. Too often these focus on the benefits employers provide—healthcare insurance and 401(k) plans—and not on the things employees really want—something personal that allows them to track their progress with a path to establishing a relationship with a financial professional.2
Technology Provides the Best Opportunity for Engagement
Using gamification to make a task more engaging provides the clearest path to success. Digital platforms allow elements of gamification to be added to the financial wellness journey thus leveraging the psychological principles of gameplay to get users engaged and motivated to start—and stay—on the path to financial wellness.
And since employers are the primary provider of income, insurance, savings, and many other resources that contribute to financial wellness, connecting with them makes sense. Financial professionals who want to provide a holistic approach to financial planning can help employers by introducing a digital financial wellness tool that meets the needs of all employees.
1 De Beer, Marthin. "Financial Wellness in the Age of Pandemics." Planadvisor.com, 2020. May 11. https://www.planadviser.com/exclusives/financial-wellness-age-pandemics/.
2 Bank of America Merrill Lynch 2019 Workplace Benefits Report, September 2019
You may also be interested in...
As a financial professional, you are likely aware of what the media is calling the Great Wealth Transfer—where $84 trillion… Read More
Incentive - New Financial Wellness App from eMoney
See how Incentive can help financial professionals stand out to plan sponsors by creating engaging and trackable financial wellness programs. Thursday, March 25 2:00 p.m. ET
LEARN MORE