Optimizing Service Expansion for Your Financial Practice
• Joe Buhrmann • February 16, 2023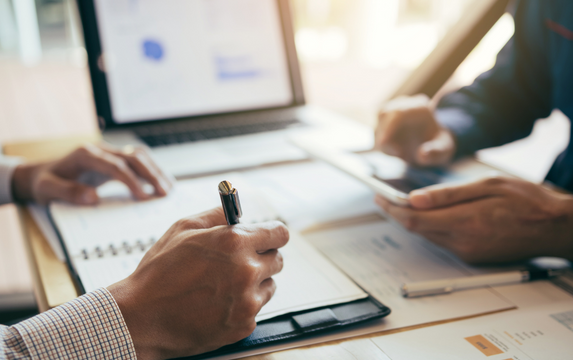 There's nothing quite like the flurry of excitement and activity around onboarding a new client and getting started on their financial plan. It's a busy time—having meetings and conversations to get to know the client, collecting and inputting their information, and helping them uncover their financial hopes and aspirations.
But what often happens after that initial influx of activity is a lull that can make you feel like you should be doing more. This can be a tricky time and it's tempting to think about adding services to your practice to help the client see your value.
Offering a broader range of services can help you build stronger, and more profitable, relationships with clients who increasingly desire a more holistic planning experience. The key is to incorporate the best services that bring value to your clients while determining how to grow a financial planning practice.
Financial Planning for a Lifetime
You've just spent six months working with a new client to implement a financial plan. Hopefully, you've set yourself up to work with this client for another 29½ years or more. What does that long-term relationship look like?
The CFP Board advocates for a seven-step, cyclical financial planning process which means you'll continue to revisit the plan to ensure it stays focused and up to date on the changes a client experiences throughout their lifetime.
Research supports that clients today are looking for a holistic approach to their financial planning needs and are willing to pay for their financial professional to expand their role into total wellness. This is especially true among Generation Y and Z clients, who are likely to pay for additional services that target physical health (80%), business advice (79%), and mental health (77%).1
If your firm offers holistic planning, that may be what drew the client to you in the first place. Perhaps they were working with someone previously who was only paying attention to their investments. Or maybe they began their financial planning journey because of one specific need—like saving for college or retirement.
By offering holistic planning, you have the opportunity to roll all of that together to provide clients with a plan that addresses so much more. According to the Fidelity Advice Value StackSM, holistic planning gives clients peace of mind and ultimately helps them achieve their life's fulfillment.
The Spectrem Group conducted a study that determined a breakdown of the services investors received, desired, and valued.2 The chart below depicts those variables as applied to various value-add financial services and provides some insight into ways advisors can expand their service offerings based on what is desired and valued by clients.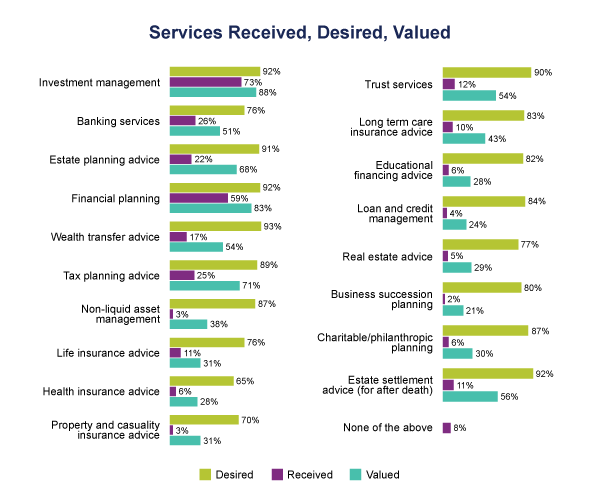 If the services you currently provide focus on investment management and basic financial planning, advice related to estate planning and settlement, wealth transfer, and tax planning are good value-added services to investigate.
It's important to keep in mind that overextending the services you offer could lead to inefficiencies in your financial planning process. The ideal scenario is one where financial professionals can strike a balance between the services clients value and those in which they have expertise. And when there is a disconnect between client need and existing experience there lies an opportunity for the advisor to expand their knowledge.
Using Client Service Calendars for Engagement with New Services
Properly structuring your service offerings will aid in establishing efficient processes and workflows while at the same time keeping clients engaged and aware of the extra value being provided. Client service calendars provide a means to help organize services as well as effectively present them to prospects, and revisit them with existing clients.
By structuring services based on a calendar, you can improve your client experience through increased consistency, accountability, and productivity. A calendar appropriately sets client expectations—especially if you've implemented a tiered or subscription service and compensation model. If that's the case, pairing it with a service calendar forces the financial professional to really think about their value proposition while giving clients a better understanding of what they are paying for.
Employing a service calendar ensures that things don't fall through the gaps—especially for services that have longer lead times or that don't need to be revisited each year.
For example, you may set a cadence of every other year for reviewing an estate plan—even years for estate. And then determine that insurance will be reviewed in the odd years. Larger gaps in time may come between reviewing beneficiaries and double-checking on job changes and following up on old 401(k) plans. A service calendar will keep both you and your clients on track in managing the plan.
Taking Service a Step Further
Differentiating your firm based on services offered can take many forms and can be dependent on the client base you serve.
If holistic financial planning is all about factoring in all aspects of our client's lives, you may have clients who want your help taking a deep dive into their budget to help determine things like whether or not to take an expensive vacation, buy a new sports car every five years, or buy a second home. Your planning expertise can show them how those decisions will impact their plan.
You may also have clients who want to have conversations around making sure they are implementing the right employer benefits or someone who wants help selling or exiting their business.
And when it comes to navigating the times we're living in, there's a place in our digitally connected world for helping older clients age in place and stay connected—both with their finances and in other ways.
Much like private banking offers a way to handle all aspects of banking for high-net-worth individuals, financial planners can extend their services to help older clients with better digital engagement. This could encompass anything from using a robust client portal to teaching them how to stay connected with their grandkids online or setting them up with Uber to keep their independence for shopping or doctor's appointments.
Offering Clients More
Our research indicates that consumers are looking for more in their financial planning relationships—6 in 10 are not fully satisfied with the advice or guidance they have received, and a top reason for this is that it was too generic and not personalized to their situation.3 And advisors agree that the industry is moving away from basic asset management toward holistic financial planning that is personalized for clients.4
If you want to know how to grow a holistic financial planning practice to serve more clients that are similar to those you already have, perhaps one of the best ways to determine which additional services to offer is to ask those existing clients. If you are building relationships while helping clients achieve their goals, you will already have an idea of what will resonate.
For more about holistic financial planning and where it stands in the industry today, I invite you to read, The State of Holistic Financial Planning: The Effort and the Result by my colleague, Connor Sung, CFP®
DISCLAIMER: The eMoney Advisor Blog is meant as an educational and informative resource for financial professionals and individuals alike. It is not meant to be, and should not be taken as financial, legal, tax or other professional advice. Those seeking professional advice may do so by consulting with a professional advisor. eMoney Advisor will not be liable for any actions you may take based on the content of this blog.
Sources:
1 eMoney Power to the Plan Research, July 2020, Advisors n=420, End clients n=403
2 "Focus On What Investors Want." SpectremGroup, 2021. November 1. https://spectrem.com/Content/focus-on-what-investors-want.aspx.
3 eMoney 88 Million Consumer Research Study, April 2022, n=1,616
4 eMoney Evolution of Advice Research, July 2022, Advisors n=300
You may also be interested in...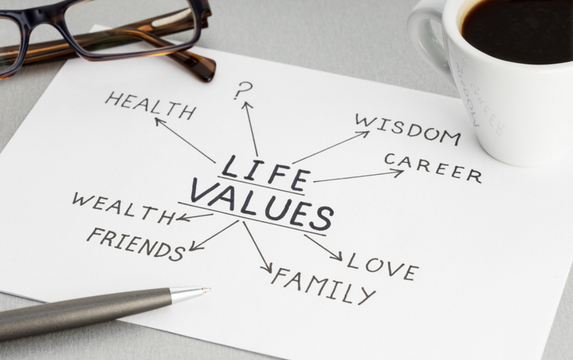 Holistic financial planning incorporates a client's total life and financial circumstances into their plan. The purpose is to go beyond… Read More
How Does Your Client Experience Stack Up? Take the Assessment!
Only 26% of financial planners say their clients are highly engaged and motivated. Take this self-assessment to see how your client experience compares!
TAKE THE ASSESSMENT