How Technology Supports Financial Literacy for Kids
• Mac Gardner • July 12, 2021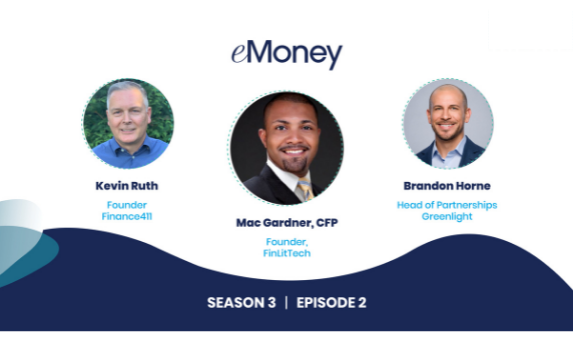 Updated on: July 21, 2022
As the Founder and Chief Education Officer of FinLit Tech, the latest episode of the eMoney original podcast That Makes Cents explores a topic very dear to me—combining technology and financial education to help kids learn about money.
For this episode, I was joined by Brandon Horne, General Manager and Head of Strategic Partners for Greenlight, and Kevin Ruth, CFP® Founder of Finance411. While their companies both provide financial education using technology, they approach it from different directions.
After leaving the U.S. Army, Brandon worked in the banking technology industry before joining Greenlight. Greenlight offers a debit card and app for kids that allows parental monitoring and control. Greenlight helps kids develop healthy financial habits and provides financial education content along the way.
Kevin also got his start in the U.S. Army and then moved into the field of wealth management and financial planning. Finance411 began life as a board game with accompanying financial education curriculum that was taken directly into classrooms to teach young people about personal finances. When classrooms became virtual during the pandemic, Kevin pivoted and turned Finance411 into an app.
Early Life Influences Money Behavior
Both of my guests noted that they didn't get much in the way of financial education during their own upbringing. They came from hard-working families who understood the value of money, but also that it could be a source of stress.
Kevin noted that he had some experience with banking and was fascinated by the way he saw his money grow when he made deposits into his savings account. He said, "I didn't really know what interest was, but I saw that the bank seemed to be this magical place where my money multiplied between visits."
In fact, research shows that by age three, children can understand basic money concepts, and by age seven, many of the habits that relate to financial behaviors later in life are already set.1
This just reinforces that the earlier kids start talking about and learning about money, the better equipped they are to manage it as they get older.
Talking About Money Is Key
Americans, however, are reluctant to talk about money and this hampers efforts to get children learning about it. More than half of Americans actively avoid talking about their finances and 63 percent have never met with a financial planner.2 Both of my guests are offering solutions to help people become comfortable with those money-related conversations early in life.
Brandon pointed out that using a money management tool with real-world consequences provides a great learning opportunity. He notes, "There are aspects of the Greenlight application which require parents and kids to have a conversation about money. Kids are already using their devices, so we use that platform to get the conversation started in a fun way."
Kevin's inspiration for Finance411 came out of his daughters' experiences in high school. "We live in one of only six states that currently require financial education curriculum in high school. But I saw that it really wasn't challenging or engaging my daughters when they were going through it, and the methodology wasn't helping them retain any of the information. It's why I set out to develop a tool that would change this."
Competence Breeds Confidence
I believe that the more people learn about something, the more comfortable they will be discussing—and teaching about—that subject. Personal finance is a perfect example of this. And unfortunately, there aren't many states that require this kind of educational opportunity in the U.S.
Both of my guests provide the means for kids and adults to learn using their platforms. Greenlight offers a "learn mode" that explains and defines concepts, so kids and their parents gain a better understanding of financial instruments. Finance411 provides a platform and curriculum that gives teachers the confidence to teach a subject they themselves may struggle with.
Technology Solutions Offer Greater Access
In the past, the ability to reach people with financial education opportunities had to happen at the local level. Technology is a game-changer in getting support to the people and communities who need it.
Technology has not only made financial education more accessible, it has made banking a more transparent process. As Brandon pointed out, "Banking used to be very opaque. You showed up with some money and various forms of identification and you opened a bank account. Then you really didn't see how it was doing between monthly statements. Now you can follow your money all the time. We see kids who check their accounts every day—especially the ones who are investing. We are able to reach them where they are—on their phones."
Gamification for Motivation
Technology also provides an important way to motivate kids to want to learn about money—gamification. By making their interactions with their finances fun, kids are more likely to retain what they are learning and come back for more. It doesn't feel like work.
Kevin says, "Getting Finance411 from a board game into an application has enabled us to add features we never would have thought about. We have a leaderboard where kids can battle it out to climb higher, we can post win/loss records, and we can list a user's playing style—do they prefer to make more aggressive or conservative money moves when they play. Technology has allowed us to provide a completely different learning experience."
The Future of Financial Education
At FinLit Tech, our mantra is that financial education, when combined with financial technology, builds a bridge to financial wellness. Both of my guests on episode 2 of the That Makes Cents podcast understand this formula implicitly.
Maybe it's because they both got their start serving in the U.S. Army, but they are clearly men of action who are excited to do their part in moving kids forward in achieving the financial educations that will serve them through the rest of their lives.
Take a listen to Season 3, Episode 2 of That Makes Cents, to hear more about the steps they are taking to make a difference.
DISCLAIMER: The eMoney Advisor Blog is meant as an educational and informative resource for financial professionals and individuals alike. It is not meant to be, and should not be taken as financial, legal, tax or other professional advice. Those seeking professional advice may do so by consulting with a professional advisor. eMoney Advisor will not be liable for any actions you may take based on the content of this blog.
The views and opinions expressed by this blog post guest are solely those of the guest and do not necessarily reflect the opinions of eMoney Advisor, LLC. eMoney Advisor is not responsible for the content, views or opinions presented by our guest, nor may eMoney Advisor be held liable for any actions taken by you based on the content, views or opinions of the guest.
Sources:
1 Whitebread, David, and Sue Bingham. "Habit Formation and Learning in Young Children." The Money Advice Service, 2013. May 1. https://mascdn.azureedge.net/cms/the-money-advice-service-habit-formation-and-learning-in-young-children-may2013.pdf.
2 eMoney Advisor surveyed 2,500 nationally representative American adults aged 18 and above from 07/17/2019 to 07/19/2019.
You may also be interested in...
As a financial professional, you are likely aware of what the media is calling the Great Wealth Transfer—where $84 trillion… Read More
eBook: From Portfolio Manager to Planner
Download our latest eBook and learn how to use the data you already have to evolve your business and client relationships.
Download Now