What Is Financial Wellness?
• Emily Koochel • October 11, 2022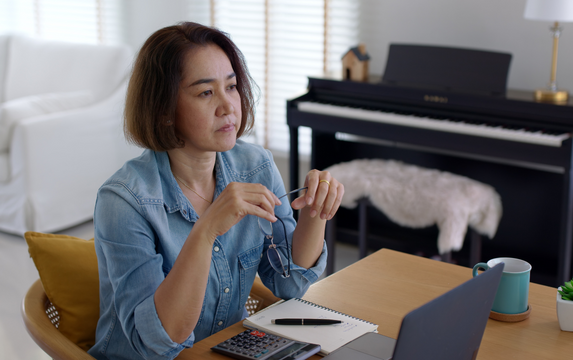 As a financial professional, your understanding of the concept of financial wellness is critical to helping your clients achieve it.
However, it can be challenging to define because it has many layers and there is no one specific amount of money that signifies you have achieved financial wellness. Rather, financial wellness holds different meanings for each person, partnership, or household based on several factors, (e.g., age, income level, aspirations, and experience, among others).
And a big part of a client's efforts toward achieving financial wellness is predicated on helping them define what it means to them.
At eMoney, we define financial wellness as a positive state of being resulting from a healthy relationship with money and the impact it has on other aspects of life. This definition was thoughtfully developed to allow individuals to decide what's healthy for them when it comes to understanding their personal finances.
Financial Wellness as a Driver of Good Health
A client who struggles with financial wellness could very easily be on a path to financial illness—a dangerous combination of low financial security and high financial anxiety. eMoney research found that consumers currently experiencing financial anxiety are generally worried about their financial future (53%) and have reigned in their spending (54%). Not surprising as their top concerns as depicted below include inflation, grocery prices, gas prices, and paying bills. The survey responses also reflected the fears these concerns evoke including being able to provide for my family, having a home, and job security.1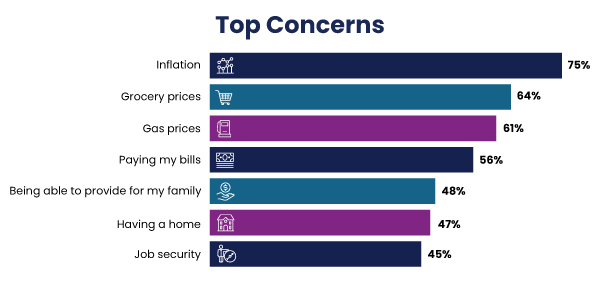 As these concerns rise, so too can the feelings of financial stress, and if left unchecked can erode mental and physical health. In fact, money is the number one source of stress in America today and higher levels of stress have been shown to lead to poor financial decision-making and a lack of long-term planning that can have lasting financial consequences.2
When this happens, a vicious cycle can develop that will continue to spiral out of control unless something is done to break it. Beyond the support of doctors and mental health professionals to support physical and emotional health, it's important that clients also seek the help of a qualified financial professional to address the underlying money issues that may have led to this deterioration.
Why Advisors Should Talk About Financial Wellness
Financial wellness is a term that has gained traction in the employer space. In a recent employer survey, eMoney found that 91 percent of employers feel that offering financial wellness programs to employees is important. Further, the survey found that 78 percent of employees agree and are eager for this type of support.3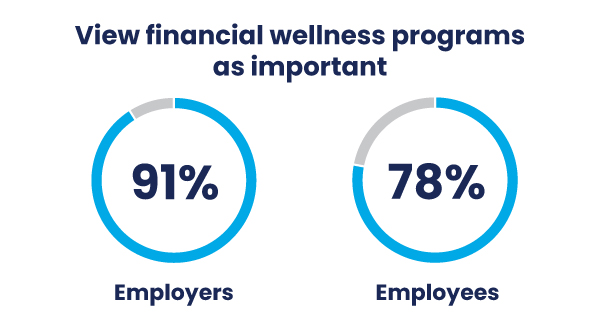 However, the survey also revealed that only 33 percent of employers are currently offering financial wellness benefits.3 Based on these numbers, it makes sense that you will have clients who are looking for additional guidance when it comes to their financial wellness.
Yet eMoney found in a survey of advisors that many often assume clients are not interested in discussing financial wellness. Only 64 percent believe their clients place importance on financial wellness, whereas 84 percent of clients say they think it's important to have those discussions with their financial professional.4
If your clients aren't among the lucky few who are receiving guidance on financial wellness as a workplace benefit, this is your opportunity to step in.
Target Financial Wellness with Personalized Financial Planning
A recent consumer survey revealed that personalization is a highly desired feature of financial planning yet is often seen as lacking. In fact, 6 in 10 survey respondents were not fully satisfied with the guidance they received because they felt it was too generic or not personalized to their situation.5
Looking deeper into the consumer's view of personalization uncovered that 72 percent are looking for a financial professional who understands their financial stress and works with them to find solutions to lessen it. For the majority of respondents—regardless of specific circumstances and existing finances—this type of personalization could be achieved by a financial planning process that focuses on budgeting and is based on their individualized needs.1
Further supporting that a client's financial wellness needs cannot be met with a one-size-fits-all approach.
3 Ways to Incorporate Financial Wellness into the Planning Process
As financial wellness broadens beyond the purview of the workplace and becomes a general marker of financial satisfaction and health, it is important for financial professionals to be well prepared for this opportunity.
I. Initial Client Meetings
Use this time to gather pertinent information that helps you and the client define their financial well-being and look for areas of alignment with their stated goals and values. But remember, clients' lives change and require continual check-in, progress evaluation, and plan updates as necessary. Also encourage your clients to let you know when there have been any notable changes, as their trusted advisor it is important to maintain an open and transparent line of communication.
II. Connect Actions to Results
As you work with your clients to design a plan that is tailored to their financial well-being, be sure to connect their actions today with the results of the long-term financial plan. This may be more challenging with younger clients whose future goals, such as retirement, may feel far away. But no matter your client's age, they have aspirations for the future. Underscore that sound day-to-day financial management will go a long way in easing short-term financial stress and ensuring they are financially prepared for both short- and long-term needs.
III. Monitor for Consistent Decision-making
Finally, financial professionals can act as the touchpoint to make sure their clients are carrying out their financial decisions consistently. eMoney believes financial wellness is achieved by taking action to understand your financial situation and the behaviors and action steps needed to improve or maintain it. Guide them on the steps they need to take to put those decisions into action and learn what motivates them to follow through.
Financial Wellness Leads to Satisfaction for Financial Professionals
Research has found that financial professionals who incorporate financial wellness into their practice are finding greater satisfaction and personal fulfillment in addition to achieving better results for their clients.4
But this research also uncovered a gap in the perceived importance of financial wellness between financial professionals and their clients and as well as a gap in how receptive financial professionals think clients will be to discussing it.4

The good news for financial professionals is that simply addressing financial wellness with your clients will not only help them meet their financial goals but also positively impact their lives by focusing on a broader objective—their financial peace of mind.
Once they know it's available, clients seeking this type of financial planning experience will choose you for the financial expertise you bring to the table and appreciate your commitment to a personalized experience that allows them to feel heard and validated.
Learn more about how a focus on financial wellness can elevate the planning experience for you and your clients by reading our eBook Deepening Client Engagement Through a Focus on Financial Wellness.
DISCLAIMER: The eMoney Advisor Blog is meant as an educational and informative resource for financial professionals and individuals alike. It is not meant to be, and should not be taken as financial, legal, tax or other professional advice. Those seeking professional advice may do so by consulting with a professional advisor. eMoney Advisor will not be liable for any actions you may take based on the content of this blog.
Sources:
1 eMoney Consumer Pulse Survey, August 2022, n=1,201
2 ValuePenguin by LendingTree Stress Survey, March 2022, n=1,537
3 eMoney Plan Sponsor Financial Wellness, January 2022, n=509
4 eMoney Planning with Purpose Research, July 2021, Advisors n=393, End clients n=391
5 eMoney 88 Million Consumer Research Study, April 2022, n=1,616
You may also be interested in...
As a financial professional, you are likely aware of what the media is calling the Great Wealth Transfer—where $84 trillion… Read More
Couples & Clashing Values: A Practical Guide
Download our latest eBook and get practical strategies for navigating money conflict between couples.
Download Now