6 Lead Generation Ideas for Financial Professionals
• Valerie Rivera • December 21, 2021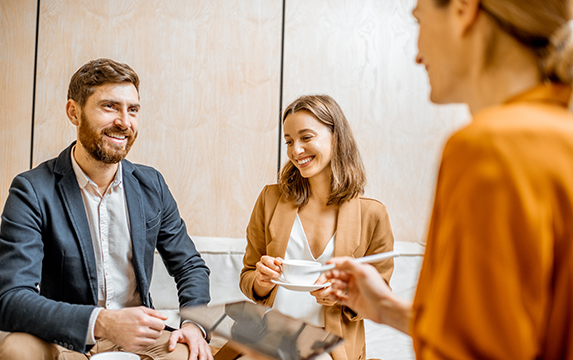 Updated on: July 20, 2022
As our world becomes increasingly digital, financial professionals need to rethink the strategies they've used in the past to build a sustainable book of business. While the best mix of lead generation tactics will depend on your firm's specific audience, there are some techniques that work better than others.
Discover which lead generation tactics can produce the best results for financial professionals and fill your sales pipeline.
1. Create a Blog (and Keep It Active)
According to the eMoney consumer marketing survey, 63 percent of consumers say informative, educational content makes an advisor's marketing stand out.1 An additional 84 percent said personalized content is very or extremely important when working with an advisor. 1
The message is clear: Content marketing is more important for financial professionals than ever before.
One popular content marketing strategy is maintaining a blog on your website. Creating blog posts that consistently provide answers to your target audience's burning questions is a great way to generate leads for a few reasons:
Grows your digital footprint: The more helpful content you create, the larger your digital footprint becomes. Blog posts make it easier for people to find you through search engines, which is where 42 percent of consumers start their search for an advisor. 1
Builds trust: When you provide answers to your audience's questions up front, you're giving prospects a taste of your expertise and what it's like to work with you. This alone can encourage conversion from audiences that are already searching for a financial professional.
Keeps you top-of-mind: For prospects that aren't quite ready to begin a relationship with a financial professional, continuously providing helpful content can help you build that relationship until the prospect is ready to convert.
Though the primary purpose of blogging should be to share information rather than self-promotion, all blog posts should provide an opportunity for readers to convert into leads. You can do this by ensuring that every blog post includes a call to action or way to contact you.
2. Gate High-value Content
Though building trust with prospects is an important part of any financial professional's lead generation strategy, gated content can also be used as a more direct lead gen tool.
Gated content is when a user provides key pieces of information about themselves to access a piece of content. Traditionally, content access will require users to fill out a form with their first name, last name, and email address. Once the user submits their information, they receive a follow-up email that contains the content for download.
Gated content needs to be higher value than a standard blog post since the user needs to give something in return for access to it. Some popular choices for gated content include:
eBooks
White papers
Webinars
Quiz results
Templates that the user fills out, like a checklist or worksheet
Creating a piece of content that meets your target audience's specific needs and then promoting the offer across your marketing channels can be a powerful lead generation tactic for financial professionals.
3. Get Social
Though building a social media presence may not seem like an obvious choice for lead generation for financial professionals, it can have a big impact on your ability to attract prospects digitally—both directly and indirectly.
Financial professionals get leads from social media because it:
Increases your digital footprint: Similar to blogging, having a robust social media presence on the platforms that your target audience uses makes you easier to find online and puts you in front of more potential prospects. If running multiple social media accounts sounds like a heavy lift, look into marketing automation solutions that can help streamline the process.
Serves as a content distribution channel: Having an engaged audience on social allows you to share news, content, and other brand-building or promotional materials more widely. This keeps you top-of-mind for prospects and offers more opportunities for conversion. You can even consider using paid advertising on social to help drive traffic to your website and branded content.
Provides an opportunity for direct outreach: While many advisors shy away from reaching out directly to potential clients via social, most consumers are happy to receive these messages from financial professionals. In fact, 58.5 percent of consumer respondents said they'd be open to hearing from an advisor on social media, with 78 percent of those ages 18-24 saying they'd be open to it.1
These are just some of the many creative ways financial professionals can use social media platforms as part of their greater marketing strategy.
4. Host an Event
Whether the event takes place online or in-person, hosting an event can be a great way to generate leads while showcasing your expertise.
Like offering blog posts and gated content to prospects, educational events and webinars encourage conversion because they provide value upfront and give prospects an idea of what you're like before they commit.
To get leads from an event, whether online or in person, simply make prospective clients sign up to attend. You'll then have the information you need to reach out to them afterward.
The right topic for your event and how to approach it depends on your target audience and their needs.
You'll also need to consider your goals and other factors before choosing to do an event in-person or online. In-person events create a sense of connection that many people crave and gives you the chance to meet with prospects face-to-face. However, webinars offer the ability to record the event from home and reach a wider audience. Additionally, if your webinar is a success, you can always record the session and use it as gated content later.
5. Strengthen Your Referral Network
The financial advice industry has historically been a referral-based business. While evolving times and technologies have significantly increased the importance of digital lead generation tactics, building a strong referral network is still an important part of building a robust, sustainable book of business.
Cultivating strong connections with Centers of Influence (COI) who work with your target clientele is a great way to gain leads in your target market. If your firm primarily serves clients that live locally, these partnerships become even more important. Building a robust presence in your community can help you become the "go-to" person in town for financial planning services.
Some COIs you can consider developing a relationship with include:
CPAs
Insurance agents
Bankers
Attorneys
Real estate agents
Life coaches
Personal trainers
Executive recruiters
Before cultivating partnerships with COIs, think about which professions best suit your business model and target audience. Also, consider how these COIs will benefit from the relationship with you. The key to building a strong relationship with COIs is ensuring that the relationship is mutually beneficial and that you both contribute to each others' business in some way.
6. Tap into Your Current Clients
Word of mouth marketing is powerful. Even in today's digital-first world, 32 percent of consumers still begin their search for a financial advisor by asking friends or family.1 Luckily, tapping into your clients for leads is easier than you might think.
Straightforwardly asking for a referral may put your client on the spot. Instead, simply tell your client that you're looking to expand your book of business this year. You can also include mention of your new client search in the occasional social media post or any e-newsletters that you send out as a friendly reminder.
Setting up a reward program for client referrals—such as a discount on services—can encourage participation. Even if you don't establish a formal rewards program, giving a client who's provided you a referral a simple token of appreciation—such as chocolates or a bottle of wine—will enhance their overall experience.
To further encourage client referrals, gather client testimonials to feature on your website, social media, and other channels. Giving prospects a glimpse into what your client experience looks like can be a motivator for prospects to reach out and choose you over competitors.
Get the Leads You Need
Building a lead generation strategy from scratch and executing it can seem overwhelming at first, but there are tried-and-true strategies for getting it done efficiently and effectively.
Download our eBook "The Financial Advisor's Marketing Guide to Digital Content and Campaigns" for more information about lead generation for financial professionals and how to put these tips into action.
Sources:
1. 2020 eMoney Consumer Marketing Survey, September 2020, n=2,000.
DISCLAIMER: The eMoney Advisor Blog is meant as an educational and informative resource for financial professionals and individuals alike. It is not meant to be, and should not be taken as financial, legal, tax or other professional advice. Those seeking professional advice may do so by consulting with a professional advisor. eMoney Advisor will not be liable for any actions you may take based on the content of this blog.
You may also be interested in...
New client acquisition is an essential task for any financial professional looking to grow their business. But financial advisors often… Read More
eBook: From Portfolio Manager to Planner
Download our latest eBook and learn how to use the data you already have to evolve your business and client relationships.
Download Now